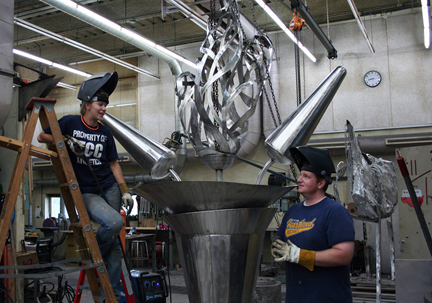 Dan Perry, a 2006 Master of Fine Arts in sculpture graduate at UNL, was commissioned to create the cauldron for the 2010 Special Olympics USA National Games being held in Lincoln July 17-24.

Perry is now a studio technician and instructor at the University of Northern Iowa. He and his students fabricated most of the piece at the UNI Sculpture Lab.

Perry received his Bachelor of Arts in fine arts with a minor in mass communications from Buena Vista University in Storm Lake, Iowa.

His recent exhibitions include "Texas National 2010" at Stephen F. Austin State University in 2010; and "UNI Faculty Exhibition" at the University of Northern Iowa Gallery of Art and "Uncanned" at Tugboat Gallery in Lincoln in 2009.

For more information on his work, visit his website at http://danperrysculpture.com.