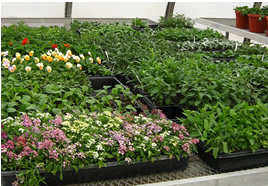 The Horticulture Club presents the 2011 Garden Expo this week. Learn about what Horticulture Club does, its purpose, upcoming events, sales and officer team. The club will host the expo from 8 a.m.-5 p.m., April 28 and from 8 a.m.-4:30 p.m., April 29 in the greenhouse behind Plant Science Hall on East Campus.

VIP night is at 5 p.m., April 27 and costs $10 per person. Check out the sale, which features a large variety of annuals, vegetables, herbs and large annual planters. Pasta sauce and salsa planters will also be for sale.

Contact Laura with questions at (402) 277-0046 or visit the website below.

More details at: http://go.unl.edu/y7b