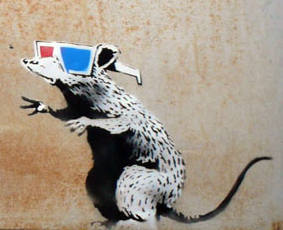 Lincoln artist Wendy Bantam will give a movie talk following the 1 p.m., Aug. 29 screening of "Exit Through the Gift Shop," at the Mary Riepma Ross Media Arts Center.

The movie talk, scheduled to start at 2:40 p.m., is free and open to the public. Admission to the movie is at regular Ross prices.

"Exit Through the Gift Shop," showing Aug. 27 to Sept. 9 at the Ross, is the first film by renowned graffiti artist Banksy.

Banksy has a global reputation with work on walls from post-hurricane New Orleans to the separation barrier on the Palestinian West Bank. He has guarded his anonymity to avoid prosecution, resisting all attempts to be captured on film.

"Exit Through the Gift Shop" tells the true story of how an eccentric French shop keeper turned documentary maker attempted to locate and befriend Banksy. The film contains exclusive footage of Banksy, Shepard Fairey, Invader and other infamous graffiti artists at work on walls and in interviews.

"It's basically a story of how one man set out to film the unfilmable. And failed," said Banksy.

For more information on events at the Ross, go to http://www.theross.org or call 472-5353.
More details at: http://www.theross.org