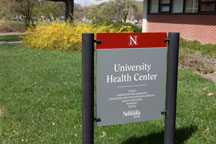 The University Health Center is sponsoring "Insurance 101: The Basics," a one-hour informational session about the UNL Healthy Option Student Plan and general insurance questions.

Two sessions are scheduled at noon and 6 p.m. Sept. 8 at the UHC in Conference Rooms A, B and C. Food and refreshments will be served.

Insurance 101 will provide a plan overview, review of plan benefits, and a question-and-answer session. There is no cost for the sessions.

The enrollment deadline for the fall coverage period (Aug. 14-Dec. 31) for the UNL Healthy Option Student Plan is Sept. 15. The plan provides health and dental insurance plus a pharmacy program.

Graduate Assistants and international students are automatically enrolled in the plan. Other students may enroll by logging on to MyRED. Look for "Student Health Insurance" under "UNL Other Services." Dependent coverage is available.

Contact Beverly Heiserman, UHC's Insurance Coordinator, at bheiserman1@unl.edu with questions.
More details at: http://go.unl.edu/q9j