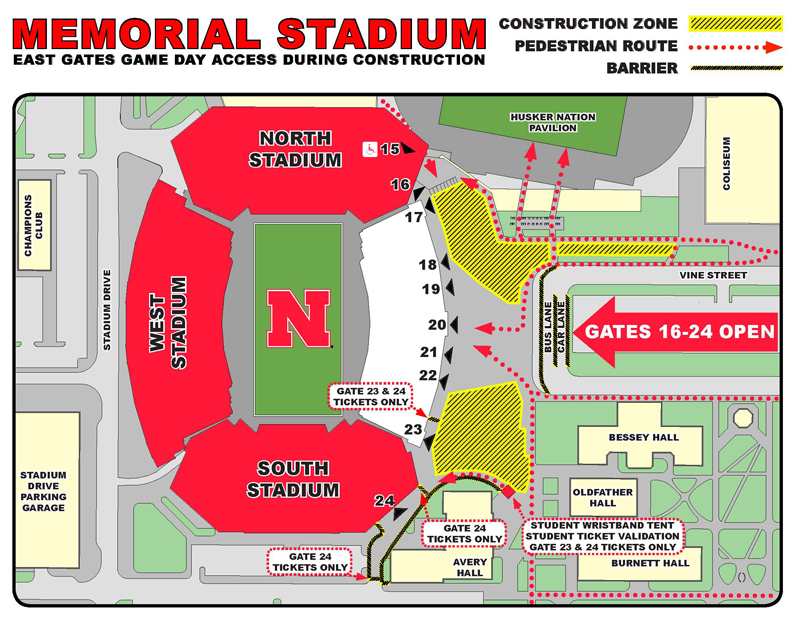 The East Stadium expansion project and new traffic roundabouts near Memorial Stadium will be the major changes Nebraska football fans will notice when the Cornhuskers open the 2011 season Sept. 3 vs. Tennessee-Chattanooga.

Construction of the East Stadium project means that some adjustments will have to be made by fans entering that side of the stadium. A new set of steps has been built on the northeast corner at Gate 16. Construction will continue during the season so some areas will be off limits to fans, but a large opening has been created in the middle portion of the East Stadium for fans to enter and then proceed to their respective gates. The pathway to gates 23 and 24 has been reduced, so fans who enter other gates are encouraged to avoid that area. Signage has been erected to help fans find the best way to their gate and seats.

The roundabouts are at 10th Street and Salt Creek Roadway immediately northwest of Memorial Stadium. Fans are encouraged to visit the City of Lincoln website, http://lincoln.ne.gov (keyword: roundabout), to learn more about the roundabouts and how to drive them. Officials suggest that, if possible, those who will drive in that area on gamedays drive through the roundabouts on an earlier date to become familiar with the entrances and exits.

Again in 2011, outside chairback seats will not be allowed in Memorial Stadium. Some 20,000 chairback seats (2,000 more than last year) will be available for rental at $5 each.

Another policy in its second year is that tickets at all gates will be scanned with an optical reader for entrance and for re-entry if someone chooses to leave the stadium.

Fans will again have the ability to report safety concerns to UNL Police via SMS (Short Message Service) text-messaging. Anyone with a cellular phone and SMS capabilities can initiate a text message to 69050, keyword, "UNLPD," and type in their complaint and location. Standard SMS rates will apply. The text number is the same as the one used in 2010.

Other stadium policies remain unchanged from previous years.

Reserved parking lots will open 6 hours prior to kickoff.

UNL students will be seated in Sections 9 through 14 in the southeast corner of Memorial Stadium, and all student seating will be general admission rather than reserved seating. Students with tickets for East Stadium seating (Sections 9, 10 and 11) must pick up a required wristband at the tent east of Gate 23 beginning three hours prior to kickoff each game; when stadium gates open, they may enter Memorial Stadium through Gate 21, 22 or 23. Wristbands are not required for students with tickets for South Stadium seating (Sections 12, 13 and 14, entering through Gate 24). UNL students must present a valid NCard with their ticket for admission. Required ticket validation for non-UNL students using UNL student tickets is available at the Athletic Ticket Office on the ground floor of the Stadium Drive Parking Garage. Validated student tickets for East Stadium seating require a wristband.

Fans are asked to help the "Big Red Go Green" in a stepped-up recycling program this fall by depositing their plastic bottles and cups in marked recycling bins located near every trash receptacle.

Memorial Stadium gates will open 1 hour and 30 minutes before kickoff of each game and ticket holders are encouraged to enter the gate number printed on their ticket. Express lanes will be in effect at stadium gates again and fans are encouraged to "travel light." Ticket-holders who are not carrying items that are subject to inspection (purses, fanny packs, camera bags and water bottles) can use the express lanes. Fans carrying such items must use the other lanes. Backpacks are not permitted in Memorial Stadium.

The Husker Nation Pavilion will be back for its eighth year at Ed Weir Stadium at the northeast corner of Memorial Stadium. It will be open 3 hours prior to kickoff and have food vendors, games, a big-screen TV, bands, the Husker Sports Network pre-game show, the Kids Zone, face painters, appearances by former players, cheerleaders and the Cornhusker Marching Band. Stadium Drive on the west side of the stadium will also have food vendors and some game-related activities.

Memorial Stadium policies:

> Stadium gates open 90 minutes prior to kickoff.

> Outside chairbacks are not allowed in Memorial Stadium.

> Backpacks are not allowed in Memorial Stadium.

> The Athletic Ticket Office and Huskers Authentic open 4 hours prior to kickoff.

> Memorial Stadium, like all university buildings, is a non-smoking area. Those who want to smoke must leave the stadium to do so, but their tickets will be scanned for re-entry. Re-entry is available at each gate. Persons re-entering the stadium are subject to rescreening.

> The following items are prohibited in Memorial Stadium: Guns, knives, backpacks, glass, cans, coolers, beverage containers, video cameras, umbrellas and pets. People will be asked to return such items to their vehicles or home. Purses, fanny packs, and small camera bags are allowed but are subject to search. Plastic water bottles are permitted but may be inspected.

> Alcoholic beverages of any type are not allowed in the stadium. In addition, consumption of alcohol is prohibited in city and university parking lots and property.

> Throwing of any object in the stadium is prohibited. Any person throwing any object is subject to immediate removal from the stadium. Rules allow game officials to penalize the home team if objects are thrown onto the playing field.

> The Stadium Assistance Team, wearing orange jackets bearing the word "Security," can help with any problems fans may encounter. If fans become separated from their friends, they should report to any First Aid station for assistance.

> Lost and found areas are located at the south end of the east and west concourses.

Parking and traffic policies and procedures:

> Most parking lots on the UNL City Campus are reserved for those who have paid reservations on game days. Paid public parking on City Campus is available at $15 per stall at the Parking Garage located at 17th and R streets.

> Parking for people with disabilities is available for $15 per vehicle on a first-come, first-served basis in Booster Lots 5 and 9 on the south side of Salt Creek Roadway between Stadium Drive and 14th Street northeast of Memorial Stadium. Lots 5 and 9 have free cart shuttle service to the stadium. This shuttle is radio equipped and will be stationed during the game at the northeast corner of the stadium and on the east side for those patrons needing to return to their vehicles. Contact the Athletics Ticket Office at (402) 472-3111 for pre-purchase opportunities. Charter and shuttle bus parking is available on W Street between 14th and 16th streets.

> Stadium Drive, the street on the west side of the stadium, will be closed on game days.

> Star Tran will offer the Big Red Express shuttle service to and from the stadium from sites around Lincoln. The shuttle service will run from Southeast Community College, 88th and O streets; Holmes Park, 70th Street and Normal Boulevard; Westfield Shoppingtown Gateway, 61st and O streets (buses load north of J.C. Penney); North Star High School, 5801 N. 33rd St. (handy to the 27th Street exit off Interstate 80); and Southpointe Pavilions, 27th Street and Pine Lake Road (buses load on the south side of Von Maur). Buses will drop off and depart from the east side of Memorial Stadium. The cost is $4 each way for adults and $1 each for children age 12 and under. Exact change is required. Big Red Express season tickets, good for round-trip travel for all home games, are available for $40 at the StarTran office, 710 J St., the SouthPointe Pavilions office, Scheel's at SouthPointe Pavilion, or at the pick-up lots on gameday. For more information, call (402) 476-1234 or visit http://www.lincoln.ne.gov/city/pworks/startran.

> The taxi cab drop off/pick up location will be at the corner of 14th and Vine streets east of the stadium. Other passenger drop-off and pick-up will not be allowed in front of the stadium before or after games. The recommended drop-off location is 12th and R streets.

> Up-to-date statewide road information can be found online at http://www.nebraskatransportation.org. Highway conditions and a brief weather report can be obtained by calling 511 on a home or cell phone.
More details at: http://go.unl.edu/roundabout