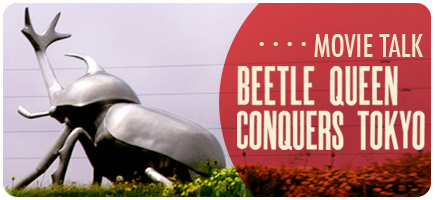 Brett Ratcliffe will lead a movie talk about the documentary"Beetle Queen Conquers Tokyo" at 2:40 p.m., Sept. 26 at the Mary Riepma Ross Media Arts Center. The talk follows a 1 p.m. screening of the film.

The talk is free and open to the public. Admission to the movie is at regular Ross prices.

Ratcliffe is curator of insects at the University of Nebraska State Museum and professor of entomology. A specialist in scarab beetles, Ratcliffe directs UNL's Team Scarab lab. He has conducted extensive field research in the United States, Japan, Central America, South America and South Africa. He is the author of 150 scientific papers, numerous popular articles and six books about scarab beetles. Ratcliffe has identified 150 new species of beetles.

"Beetle Queen Conquers Tokyo" and "Winter's Bone" open Sept. 23 at the Ross. Both show through Oct. 7.

"Beetle Queen Conquers Tokyo" delves into the ineffable mystery of Japan's age-old love affair with insects. The documentary is directed by Jessica Oreck.

A Sundance Film award-winner, "Winter's Bone" is a thriller that follows 17-year-old Ree Dolly as she tracks down her father through a local criminal underworld and the harsh Ozark wilderness. Dolly is looking for her father because he put up the family homestead for his bail. The critically acclaimed film won the 2010 Sundance Film Festival's Grand Jury Prize and the Waldo Salt Screenwriting Award.

For more information, go to http://www.theross.org.
More details at: http://www.theross.org