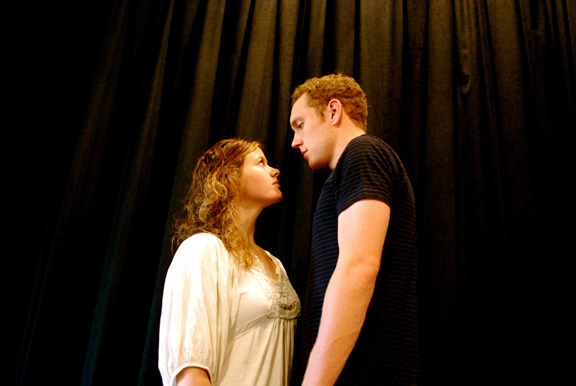 Theatrix, UNL's student-operated theater organization, is offering "Project No. 1," an original play based on concepts of identity and fear. Performances are 7:30 p.m. Oct. 26-28 and 2 p.m. Oct. 30 in the Temple Building's Lab Theatre.

"Project No. 1" is devised theater, a process where the script originates not from a single writer, but through a collaboration. Actors, under the direction of undergraduate Jake Denny, devised the script. Other students who helped develop the script are Jessie Tidball, Devon Schovanec, Rudy Jensen, Reagan Lopez, Adam Gutierrez and Jenny Holm.

The performance centers on a forgotten generation searching for identity in a plastic world where fear is the new American dream.

"This show will usher audiences into a abstract world of fear, a world that thrusts you into multiple worlds ranging from a classroom setting to a war setting and a world that will leaving you asking many questions about yourself and your beliefs," said Nicole Kelly, managing director of Theatrix.

"Project No. 1" is directed by Denny, a senior performance and directing and management major. Scenic design is by Michael Fortkamp and lighting design is by Theatrix's former artistic director Cristina Skinner. Sound design is by Ryan Hammack. Costume design is by Jen Hickey; Cassandra Tyrrell is properties master; and Brandon Aylor is technical director.

Tickets are $6 and available online at http://unltheatretickets.com or at the door (subject to availability).
More details at: http://go.unl.edu/zdd