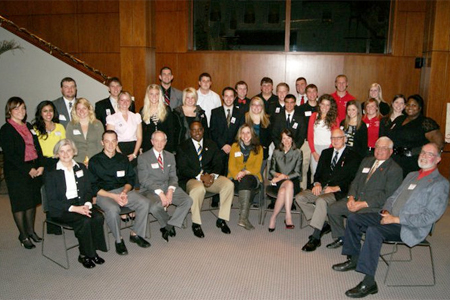 Seven outstanding alumni will return to UNL Nov. 2-4 to share their experiences and knowledge with students as part of Alumni Masters Week.

This year marks the 47th annual Alumni Masters Week, a program sponsored by the Nebraska Alumni Association, Scarlet Guard, Innocents Society, Mortar Board and the UNL Chancellor's Office. All students, faculty and staff are encouraged to take part in lectures, presentations and events with the Alumni Masters, who will speak about ways to apply formal education to working situations and career goals.

Since 1964, nearly 260 alumni have participated in Alumni Masters Week. The selection of the Alumni Masters is competitive. Candidates are alumni who have shown great promise, success and leadership in their fields. Each spring, a committee of faculty and administrators makes recommendations to the chancellor, who chooses the participants for the program.

The 2011 Alumni Masters are:

Thomas Campbell, PhD, '74, '75, College of Education and Human Sciences. Campbell is the Sara T. Martineau Endowed Professor in Communication Disorders in the School of Behavioral and Brain Sciences at the University of Texas at Dallas, and the Executive Director of the UTD Callier Center for Communication Disorders. His current research focuses on the identification of physiological, environmental and genetic variables for the early identification of speech and language disorders in children with developmental and acquired communication disorders.

Dennis Hirschbrunner, '70, College of Engineering. Hirschbrunner is a retired executive vice president and director of marketing for HDR, an Omaha-based engineering and architecture consulting firm with more than 8,000 employees and 185 offices globally. He has served in the consulting engineering field for more than 35 years, and has also served on the boards of the American Water Works Association and the Water Environment Federation.

Willow Holoubek, '81, College of Agricultural Sciences and Natural Resources. Holoubek is organizational director for the Alliance for the Future of Agriculture in Nebraska. In this role, she works to develop agricultural awareness in the state, to empower grassroots membership and to facilitate collaboration between all the major commodity state organizations. She is also owner/operator of WillowMark Angus and Holoubek Family Farms.

Eartha "Jean" Johnson, '90, College of Law. Johnson is president and CEO of LegalWATCH, a risk mitigation training company she formed in 1997 after practicing law for a number of years. LegalWATCH helps companies avoid mistakes that can often force them into settlements or litigation. The company provides customized training for employees in many areas including risk mitigation, diversity, ethics and employment law.

Kris Malkoski, '83, College of Journalism and Mass Communications. Malkoski is vice president, general manager of Craftsman, the popular tool and hardware company. In this role she leads strategy, product development, marketing, sales, supply, cost management and globalization for this iconic $2.2 billion brand. Malkoski is a recipient of Advertising Age's "Top 25 Women to Watch" and "Top 100 Marketers" awards.

Roger L. Schluntz, '67, College of Architecture. Schluntz, FAIA, teaches architecture and urban design at the School of Architecture at the University of New Mexico, where he also served as dean. Under his leadership, the school established its fully accredited and highly acclaimed Master of Landscape Architecture degree program, as well as two interdisciplinary graduate certificate programs. Schluntz has served as the Professional Adviser for more than 25 major design competitions.

Lee Stuart, '91, College of Business Administration. Stuart is the chief executive officer of NBC Bancshares, LLC, a federal savings and loan holding company headquartered in Lincoln, and the majority shareholder of Nebraska Bank of Commerce, where he is the executive chairman of the board. He is also a partner at NHI II, LLC and a former managing director with Cardinal Management.

For complete Alumni Masters bios, visit huskeralum.org/events/masters.
More details at: http://go.unl.edu/vac