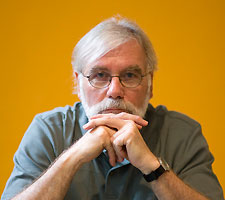 Hans Ulrich Allemann, internationally recognized graphic designer and fellow of the American Institute of Graphic Arts, will give a presentation chronicling his journey as a designer and educator at 5:30 p.m., Oct. 22 in Richards Hall room 14.

A native of Switzerland, Allemann launched his professional graphic design career in Zurich in 1965. He was responsible for introducing "Swiss Design," sensibilities to a radical, anti-establishment generation in the mid-1960s. Throughout the decades, his creative work has garnered many graphic design awards and honors for both his original design solutions and also contributions as a design educator.

The American Institute of Graphic Arts Fellow program recognizes mature designers who have made a significant contribution to raising the standards of excellence in practice and conduct within their local or regional design community as well as in their local American Institute of Graphic Arts chapters.

For more information, please contact 472-5522.