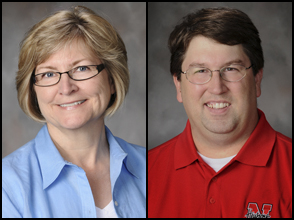 Linda Christensen and Conrad Engel received University Kudos awards during the Sept. 10 meeting of the University of Nebraska Board of Regents.

Christensen, coordinator of contracts and student services for University Housing, has worked at UNL for 20 years. She plays a central role in ensuring that the more than 7,000 student housing contracts are processed accurately and timely each year. Christensen led development of the online housing application and related website materials. She also works with students and parents, answering questions about transactions on UNL's centralized billing and fielding complaints about Housing policies or fees.

"Throughout her time with Housing, Linda has demonstrated consistent excellence in dealing with students and their parents," said nominator Juan Franco, vice chancellor for Student Affairs. "She manages such situations in a way that lets the person know that they are heard, understood and respected, even when she can't give them the answer they want.

"It comes through to the student or parent that she cares about them as a person and will do all she can to help them."

Engel, software systems architect for Shared Computing Services, has worked at UNL for six years, including a 16-month appointment as interim director. He has developed hundreds of base business systems, improvements and upgrades for Business and Finance, saving countless hours of work and adding value and simplifying processes for units across UNL.

"Conrad's applications touch most of us at UNL in one form or another," said nominator Chris Jackson, vice chancellor of Business and Finance. "He demonstrates his unit's commitment to deliver secure, responsive, high-quality, customer-oriented services and support that enhances faculty and staff productivity in these difficult budget times."

Engel developed a wireless tablet application that allows custodian directors to review, approve and retrieve daily activity reports from managers and supervisors. The application replaced the time-consuming, manual process for documentation and communication among the 200 custodial services employees working in more than 100 campus locations.

Engel implemented similar time-saving programs for Transportation Services and a handheld citation management system for Parking. He has also developed numerous applications for the NCard program.

The Kudos Award is a university-wide honor presented by the NU Regents to celebrate staff who go above and beyond in their work for the university. For more information, go to http://go.unl.edu/ukp.