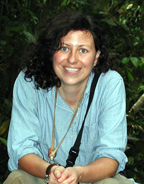 University of Arizona professor A. Elizabeth Arnold will be featured in UNL's Biotechnology/Life Sciences Seminar Series. Arnold's 4 p.m., Feb. 8 lecture, "Fungal Endophytes from the Tropics to the Tundra: Clues to the Evolution of Plant-Fungal Interactions," is in the Beadle Center, room E103.

The free public seminar is preceded by a 3:30 p.m. reception.

Arnold will discuss three main areas: the evolutionary origins of endophytic fungi; to what degree do the demonstrate co-evolution with host organisms; and how these previously unknown fungi clarify the structure of the fungal tree of life.

For more information, go to http://biotech.unl.edu.