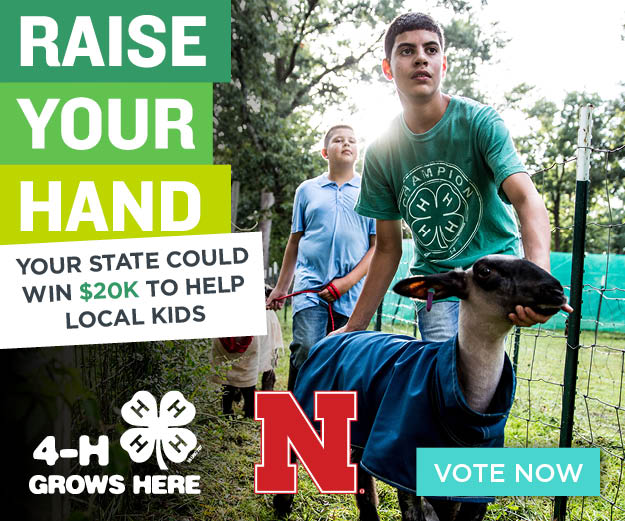 The National 4-H Raise Your Hand campaign begins today! Raise Your Hand for Nebraska now at https://4-h.org/raise-your-hand/

The campaign will be held from April 1 through May 15. Similar to previous years, there will be cash prizes for the top three states ($20K, $10K, and $5K). However, this year there will be a few changes to the competition:
• The winning states will be determined by the number of hands raised as a percentage of their state population.
• Additionally, the state with the highest increase in hands raised from 2018 to 2019 will receive a free photo shoot coordinated by National 4-H Council.

For more information about changes in 2019, please watch the Top Things You Should Know about Raise Your Hand in 2019 video at: https://youtu.be/HoiAp528Fp0.

As you may recall, Nebraska won second place last year with over 14,000 hands raised. This year, we are aiming for first place! Much of our state level promotion will be happening on social media, particularly on Facebook but also on Instagram and Twitter. Additionally, we will be sending a Raise Your Hand email campaign, attending in-person events, and working with partners to promote the campaign to a larger audience.

We also want to encourage you to promote the campaign to your local audiences as much as possible. Marketing and promotional resources are available at https://4h.unl.edu/employee/marketing-toolbox/raise-your-hand, including:
• Visual graphics
• Social media messaging
• Promo videos

So, what can you do? Here's a few ideas and suggestions:
• Reshare, like, and comment on Nebraska 4-H's RYH calls to action on social media.
• Post your own RYH calls to action from your county social media accounts.
• Place a RYH graphic in your county newsletters.
• Add a RYH graphic to your county website.
• Add a link to 4-H.org/Raise-Your-Hand to your email signature line.