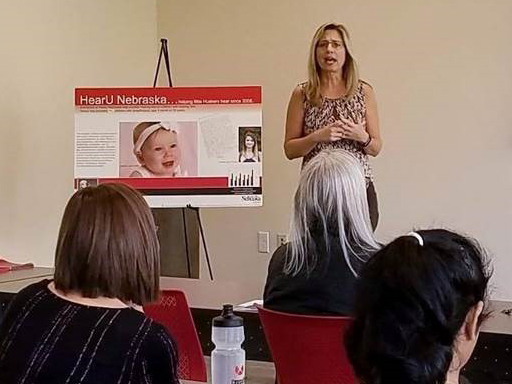 Another Great General Membership Meeting Complete, More Events Coming Up
Thank you to all who came to Massengale Residential Center to take part in our October general membership meeting. Stacie Ray, Associate Professor of Practice and founder of HearU Nebraska provided a historical overview of the development of some of the local programs that have been created to help those who are deaf or hard of hearing. Stacie was also named a finalist this year for the 2018 Inspire Award for Excellence in Education. We are grateful for her willingness to share her story with us. Please consider contributing to the HearU Nebraska fund through the NU Foundation page. HearU Nebraska is UAAD's community outreach for October, which happens to be Audiology Awareness Month. Thanks to Kelcey Buck for helping arrange Stacie to present and to Kelcey and Stephanie Vendetti for helping arrange our outreach efforts this month.

I'm excited for the next month as a number of events will be happening. Tomorrow, we'll have a social hour, which is being cohosted by multiple groups. Please join us at The Mill on Innovation Campus from 4:00pm-6:30pm on Thursday as the networking committees from UAAD, Young Professionals Network, the Multicultural Young Professionals Network and the Academic Advising Association join together for socializing. This will be a great way to meet additional colleagues across campus and encourage more interaction amongst staff from many departments. Community Outreach will be preparing and delivering a meal for Mourning Hope Grief Center in November. The Professional Development Committee will be hosting their 2nd event on November 7th, which will be a deeper exploration and in-depth training on strategies and best practices for LinkedIn utilization. Click here for more details. Finally, we'll be having our monthly general meeting a bit later next month due to Thanksgiving. Mark your calendars for November 28th, as we'll be meeting in the Champions Club near Memorial Stadium to hear Athletic Director Bill Moos and Alumni Association Executive Director Shelley Zaborowski talk about university athletics, academics and the partnerships that take place with all entities across campus in serving the student athletes, alumni and the state of Nebraska.

Lastly, as you will see multiple times in the upcoming months ahead, the Oldt and Donaldson Award nominations are open. Please do consider nominating a deserving colleague for these awards! By recognizing the hard work happening by staff across our campus, we can continue to show the campus community the important role staff have in making this university a great place to be a part of. Thanks again for being a member of UAAD and thanks for all you do to make our institution great!