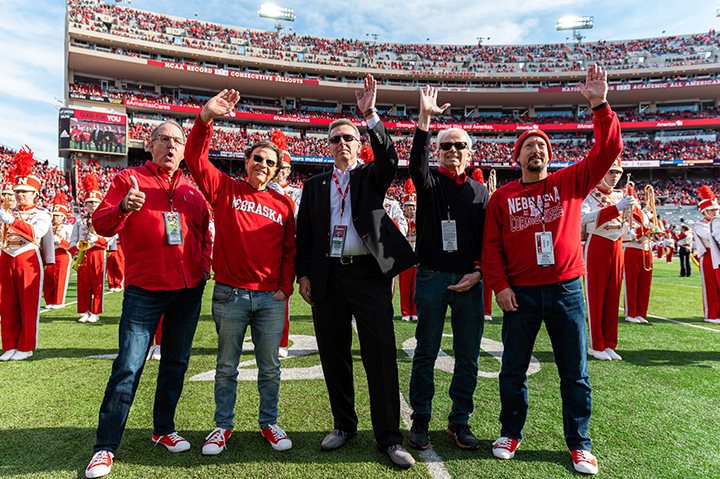 The Johnny Carson Center for Emerging Media Arts celebrated its dedication with a weekend of events Nov. 15-17.

Preparations for the center were launched in 2015 with a $20 million gift from the foundation of iconic talk show host Johnny Carson, who hailed from Nebraska. The center is now the premier destination for the transformative creative leaders.

"I can't believe we're here," said Founding Director Megan Elliott at the formal dedication on Nov. 17, who had accepted the position just three years earlier. "Three years later, I'm standing here in the Carson Center, celebrating with you and the people that made it possible to program and build a building, create a brand-new Bachelor of Fine Arts in Emerging Media Arts, craft a strategic plan, hire new faculty members, put together an awesome team of staff, a rock-star international Advisory Council, and recruit our first cohort of students."

The Center was also the first in the Big Ten to collaborate with HP/Educause in researching the possibilities of XR in higher education through the Campus of the Future initiative, joining the ranks of MIT, Stanford, Harvard, Yale and Dartmouth.

Elliott said the center follows a simple mantra: Dream Bigger.

"This simple mantra captures the entire mission of the Johnny Carson Center for Emerging Media Arts," she said. "We exist to inspire our students to dream bigger. To imagine. We teach them to boldly leverage new and emerging technologies. We push them to pursue audacious new career pathways and tackle global-scale problems."

Hixson-Lied College of Fine and Performing Arts Endowed Dean Chuck O'Connor thanked the many people that helped bring the Carson Center to fruition, including the members of the Johnny Carson Foundation board who were in attendance.

"I'd like to thank the Johnny Carson Foundation not only for the significant gift that they gave us, but also for the challenge that they provided us," O'Connor said. "They said at the inception that we're interested in investing in you, but we don't want you to build a program that gives our students something that everybody else has. We want you to build the best. We're looking for national preeminence here. We're looking for a program that looks towards the future that provides our students an education so that they can have powerful and sustained working lives and help grow Nebraska. And I think the Carson Center has done that and more. We have created the gold standard amongst our peers. We are the best in the Big Ten at this. Other universities across the country are looking at what we do. We prepare our students to work at that really exciting intersection of media and computer programming and design, all within an entrepreneurial mindset."

Two emerging media arts students spoke at the Dedication, Parker Reil a sophomore emerging media arts student from Ogallala, Nebraska, and Sophia Stueven, a freshman emerging media arts freshman from Pierre, South Dakota.

"Change isn't made by playing by the rule book," Reil told his fellow students gathered at the dedication. "I hope you know that our lives, our futures, are not pre-determined or pre-written in any sort of book. But this major, this Center that we're living our lives in—this can be your first page."

Stueven said students appreciated having a space that caters to various learning styles and needs.

"That's why we are so grateful to be surrounded by such a creative and open ecosystem, not only with the physical building, but also with the people occupying it," she said.

During the dedication, Elliott paid tribute to Norm Hollyn, a University of Southern California professor and film editor who advised the development of the Carson Center. He died unexpectedly in March. His vision for the Center and its importance to being linked to Carson were featured in a video shown at the dedication.

"The concept, for me, of what this emerging media arts center could really be great at is to prepare students to work in a future in which the traditional film will disappear," Hollyn said in the video. "It's not about the tech. It's about the inner soul of you as a creator, reaching out to other kinds of input and being wiser about it."

A video from talk show host Conan O'Brien was also shown, where he congratulated the university on the opening of the Center.

On Friday, Nov. 15, the Center hosted Carson Center Conversations, featuring presentations by Advisory Council members Robert Tercek (innovation expert and author), Ashley Baccus-Clark (multidisciplinary artist and VR producer), Alex McDowell (production designer and creative director) and new Assistant Professors of Emerging Media Arts Ash Smith and Jesse Fleming.

Friday's event concluded with The New Economy Panel, where industry experts from across the country gathered to discuss the program's role in today's rapidly changing workforce. The panel was led by Preeta Bansal, senior adviser at MIT's Laboratory for Social Machines, co-founder and president of Social Emergence Corp., and former senior policy adviser to President Barack Obama. She was joined by Kyle Murphy, vice president of People and Corporate Communication at Hudl and founder of Nebraska VX; Ross Warren, founder-in-residence at Google's experimental Area 120; Jeff Nicholas, vice president of creative and innovation at Live Nation entertainment company; Erica Larsen-Dockray, a media artist, educator, activist who co-founded the Calibraska Arts Initiative and Husker alumna; and Clint Runge, co-founder and managing director of Archrival marketing agency.

To view a video highlighting the dedication weekend created by University Communication, as well as the video featuring Hollyn, visit https://go.unl.edu/n6xv.

To view more photos from the dedication weekend, visit our Facebook page at https://go.unl.edu/ekq2.