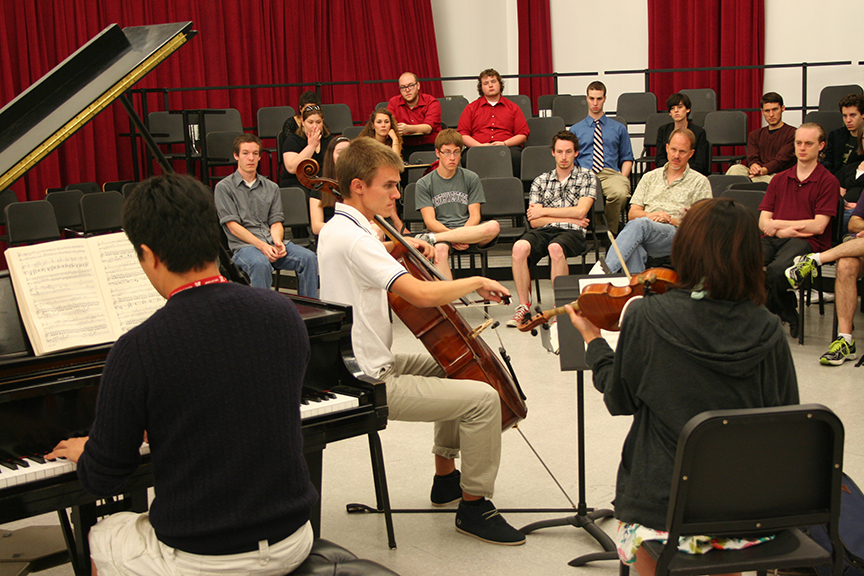 The School of Music will be hosting the 10th annual Chamber Music Institute (CMI) for superb young artists who love chamber music.

CMI runs June 9-16. This year 33 fellows will enjoy a week of intense music-making, including coachings, masterclassess and workshops on developing entrepreneurship.

The participants are currently undergraduate and graduate students at conservatories and universities across the U.S. They receive free tuition and room and board for the week.

This year's fellows include four pre-formed and four assembled groups, both wind and strings, plus four composers.

"It is amazing how talented these young musicians are, and how much they accomplish in an incredibly short amount of time here at UNL,' said Larson Professor of Flute John Bailey, who serves as the Director of CMI. "The faculty are very much looking forward to working with them. We hope that their experience here will make them consider UNL for advanced work in the future. We are very proud of our faculty and our facilities."

Seven School of Music Faculty are joined this summer by four faculty guests, the Escher String Quartet.

The Escher String Quartet includes Adam Barnett-Hart and Aaron Boyd, violins; Pierre Lapointe, viola; and Dane Johansen, cello. Championed by members of the Emerson String Quartet the group recently served its third season as resident ensemble of Chamber Music Society of Lincoln Center's "CMS Two" programme.

A Composers' Concert will take place on Friday, June 14 at 7:30 p.m. in Kimball Recital Hall. Four groups will premiere four world premieres of new works.

A Final Concert will be presented on Sunday, June 16 at 3 p.m. in Kimball Recital Hall. All eight groups will perform as the culmination of their work at CMI.

Both of these concerts are free and open to the public.

For more information on CM, visit http://go.unl.edu/cmi13.