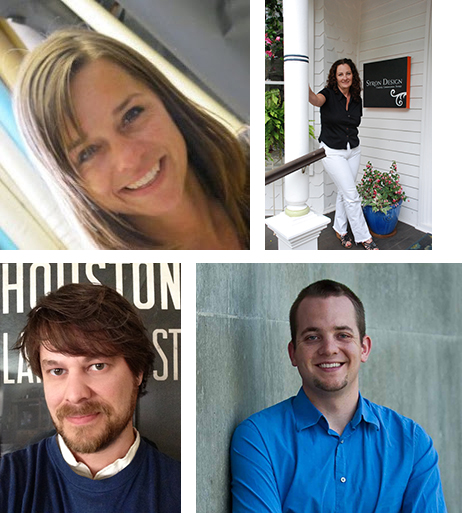 The Hixson-Lied College of Fine and Performing Arts welcomes the following new faculty this fall:

Stacy Asher is Assistant Professor of Art and will be teaching in visual communication. Asher is dedicated to the study of visual culture and the creation of social art, which engages the public in reflecting how people exist in public space. She has previously taught at the University of San Francisco, San Francisco State University, Ohio University, the University of Dayton and Metropolitan State College of Denver. She earned her M.F.A. in design from the California College of the Arts, and has collaborated on the design of several, large, outdoor signage campaigns for HIV prevention, as well as the promotion of the cultural arts in San Francisco.

Dave Hall is Assistant Professor of Percussion and Jazz Studies and coordinator of the percussion program. Previously, he was a percussion instructor at Texas Christian University (TCU) and also taught lessons, ensembles and courses at the University of North Texas as a teaching fellow. Hall regularly performs as a solo marimbist, drummer, orchestral percussionist and steel pan artist as a result of his diverse skills as a percussionist and omnivorous musical approach. He has played snare drum for the Phantom Regiment and Crossmen Drum and Bugle Corps, the TCU PASIC Champion Indoor Drumline and the Dallas Mavericks Drumline. In addition to regular engagements in the United States, he has also performed abroad in Spain, Puerto Rico, Belgium, and at the Umbria Jazz festival in Perugia, Italy. Hall is also an active composer, published by C. Alan Publications. His compositions have been performed at many notable venues including the Midwest Clinic, the Percussive Arts Society International Convention, The National Conference on Percussion Pedagogy, the Texas Music Educators Association (TMEA) and the Piteå Percussion Repertoire Festival in Sweden. Hall has earned degrees in percussion performance from the University of North Texas (D.M.A), TCU (M.M.), and the University of Nebraska–Lincoln (B.M.). Hall is an educational artist for Innovative Percussion. This summer, he was elected to the Percussive Arts Society Percussion Ensemble Committee.

Colleen Syron is Assistant Professor of Practice in Art and will be teaching in visual communication. Syron has worked as a creative director in New York City and has designed for organizations like The Wall Street Journal, Dow Jones, IBM, Merrill Lynch, GE, Pfizer, Merck Pharmaceuticals, Nextel and the Robert Wood Johnson Foundation. She has designed everything from boutique wine bottles to the rebranding of international corporations. Her experience includes work at print design firms, PR agencies, interactive design agencies, advertising agencies and strategic branding companies. She received her master's degree at the School of Visual Arts and has taught there and at Parsons School of Design.

Aaron Sutherlen is Assistant Professor of Art and will be teaching in visual communication. Sutherlen began his career creating printed collateral for restaurants and hotels for the Walt Disney World Resort, before transitioning into merchandise and package design for the various properties, including the Disney Cruise Line. This experience strengthened his understanding of retail and merchandise graphic design, which evolved into art direction and conceptual design for the Abercrombine and Fitch, Co. He earned his M.F.A. from Savannah College of Art and Design.