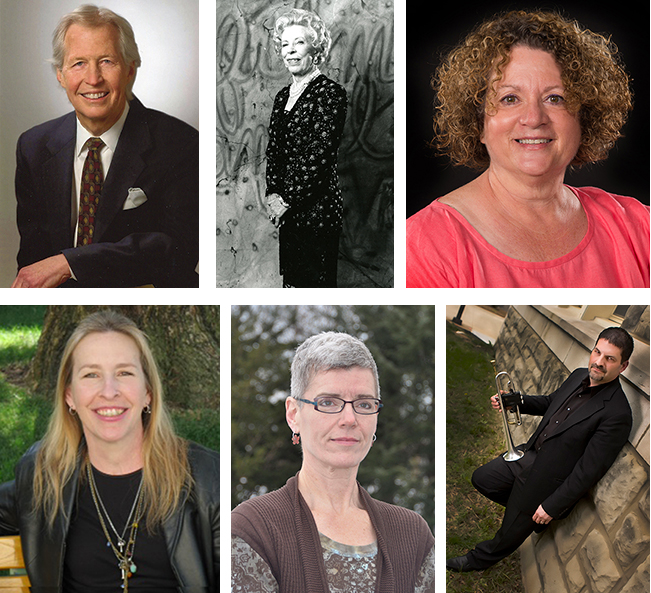 Student, faculty, staff and alumni achievement will be recognized at the annual Hixson-Lied College of Fine and Performing Arts Honors Day Dinner on April 26. The event is by invitation only.

The awards to be presented include seven selected by the Fine and Performing Arts Alumni Board.

The Award of Merit will be presented in honor of Glenn Korff and Mary Riepma Ross. In August, the University announced an $8 million gift from UNL alumnus Korff to the University of Nebraska Foundation to create a permanently endowed fund to provide annual support for students, faculty and programs within the School of Music. In honor of his generosity, the School was renamed the Glenn Korff School of Music. A native of Hebron, Neb., Korff graduated from the University of Nebraska in 1965 with a chemistry major and enjoyed a long career in the area of finance and investments, retiring from Goldman Sachs. Korff passed away on Aug. 27, shortly after the announcement of the gift.

Ross, who was an attorney in New York City and among the first women to practice law there, donated $7.7 million to the University of Nebraska Foundation through her estate last year to create a permanent endowment for the Mary Riepma Ross Media Arts Center. She also donated much of her personal collection of art to the Sheldon Museum of Art. Ross, who died Feb. 2, 2013, in New York City at the age of 102, spent part of her youth in Lincoln during the late 1920s and early 30s while her father served as a church pastor, and she began her studies at the University of Nebraska. In 1990, she established a $3.5 million trust at the University of Nebraska Foundation to support the university's film theater program, which was then located at the Sheldon Museum of Art. The funds helped construct the Mary Riepma Ross Media Arts Center at 13th and R sts, which opened in 2003 and houses two film theaters, as well as film classes for the Johnny Carson School of Theatre and Film.

Three Alumni Achievement Awards will be presented:

The Alumni Achievement Award in Art will be presented to Maureen Mills, chair of the ceramics department at the New Hampshire Institute of Art. Mills received her Master of Fine Arts in art in 1987 and has worked continuously since in ceramics. She is the author of "Surface Design for Ceramics," currently used in many college and high school classrooms. Her work has been exhibited nationally and internationally.

The Alumni Achievement Award in Music will be presented to Dr. Alan Wenger, associate professor of trumpet and brass methods at the University of Central Missouri. He received his Bachelor of Music degree from UNL in 1988. He has enjoyed an impressive career as a performing artist, both as a trumpet soloist and ensemble performer. He serves as principal solo cornet with the Fountain City Brass Band of Kansas City, which has won the North American Brass Band Championships.

The Alumni Achievement Award in Theatre and Film will be presented to Crystal Craft, a stage manager with ABC's "General Hospital" and an actress and director. She received her Bachelor of Fine Arts in theatre arts from UNL in 1979. In 1999, she became head costume designer for "General Hospital" on ABC, and in 2002 she became a member of the directing team as a stage manager, earning three daytime Emmys and two Directors Guild of America awards. She continues to direct theatrically around Los Angeles, in addition to her position as stage manger on "General Hospital."

The Faculty Service Award will be presented to Assistant Professor of Theatre Laurel Shoemaker, from the Johnny Carson School of Theatre and Film. She has worked throughout the community as a designer and mentor to young scenic and lighting designers. She has also served on the Friends of Opera and Friends of the Robert Hillestead Textiles Gallery boards, as well as the Lincoln Arts Council.

Savannah Kurtz, from the Johnny Carson School of Theatre and Film, will receive the Student Leadership Award. A junior theatre directing/management major, Kurtz is also managing director of the student-run Theatrix. She also serves as vice president on the board of governors for Nebraska Masquers and serves on the Dean's Undergraduate Student Advisory Board.

Other awards to be presented include the Vreeland Awards in Music and Art; the Porter Awards in Theatre and Dance; the Pace Woods Scholarships in Art, Music and Theatre; the Dean's Award for Academic Excellence; and the Outstanding Graduate Teaching Assistant Award. In addition, the prestigious Hixson-Lied Faculty and Staff Awards will be announced.