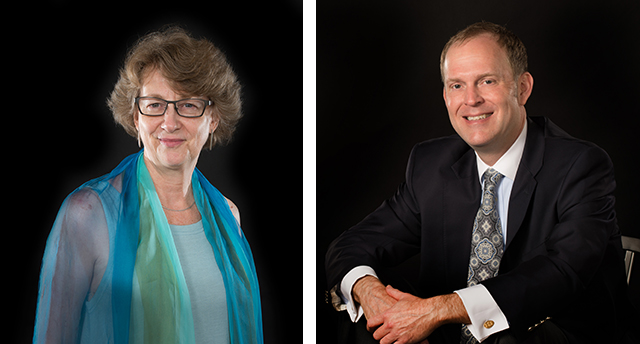 The Hixson-Lied College of Fine and Performing Arts has announced that Mark Clinton from the Glenn Korff School of Music and Alison Stewart from the Department of Art and Art History have been named Hixson-Lied Professors beginning this Fall.

In addition, Hixson-Lied Professor of Clarinet Diane Barger's professorship has been renewed for a second three-year term.

The Hixson-Lied Professorship program recognizes the work of the most outstanding faculty in the Hixson-Lied College of Fine and Performing Arts. Supported by a grant from the Hixson-Lied Endowment, the professorships are limited to tenured faculty at the rank of associate or full professor, who do not already hold a named professorship and who have demonstrated exceptional or overall performance over an extended time frame and whose accomplishments have gained significant recognition beyond the University.

Hixson-Lied Professorships are awarded for a three-year term and can be re-nominated for a second, consecutive three-year term. These professorships carry a $3,000 annual stipend that can be used to augment the recipient's salary or to support the recipient's creative or scholarly work.

Since entering the Preparatory Division of the Peabody Conservatory at age eight under the tutelage of Julian Martin, Clinton has worked extensively with some of the world's foremost pianists, among them Leon Fleisher, John Perry, Carlo Zecchi and Tatiana Nikolayeva. As a critically acclaimed pianist, Clinton has garnered prizes at such prestigious international competitions as the 1987 William Kapell International Piano Competition and the 1991 Joanna Hodges Piano Competition. He has been featured frequently on national radio and television broadcasts, including National Public Radio's Performance Today and Monitor Radio.

For a number of years, Clinton joined with pianist Nicole Narboni to form the highly successful Clinton/Narboni Duo. They received prizes at several major international competitions, including the 1994 ProPiano New York Recital Competition, the 1995 National Federation of Music Clubs Ellis Duo Piano Competition, the 1996 Concorso Internazionale "Carlo Soliva" (four-hand division), and the Alvin Perlman Prize at the Fifth Murray Dranoff International Two Piano Competition.

Clinton has shared his musical insights with gifted students from around the world while serving on the faculties of Salisbury University, the Aspen Institute, Missouri Southern State University and the Ameropa Chamber Music Festival in Prague, Czech Republic. He is currently Professor of Piano and Co-Area Head of Keyboard Studies in the Glenn Korff School of Music and is a Steinway artist.

Stewart has taught art history at UNL since 1989. She received her Bachelor of Arts in art history and journalism from Syracuse University, her Master of Arts in art history from Queens College of the City University of New York, and her Ph.D. in art history from Columbia University. In 1981 as a graduate student, she received a Fulbright grant to study in Munich.

Her recent books include "Media Revolution: Early Prints from the Sheldon Museum of Art," edited by Stewart and Gregory Nosan in 2012, which is available through the Digital Commons at http://digitalcommons.unl.edu/zeabook/9/; "Before Bruegel: Sebald Beham and the Origin of Peasant Festival" in 2008; and "Saints, Sinners and Sisters: Gender and Visual Art in Medieval and Early Modern Northern Europe," co-edited with Jane Carroll, in 2003.

She received a Fulbright Senior Lecturing/Research Award to teach and complete research at the University of Trier in Germany in 2014. She conducted research for her book she is writing on the 16th century painter-printmaker Sebald Beham. Her book continues her study of Beham from her 2008 book "Before Bruegel" and will be the first full-length book on him written in English.
For more information on the Hixson-Lied Professorships, visit http://go.unl.edu/wwxb.