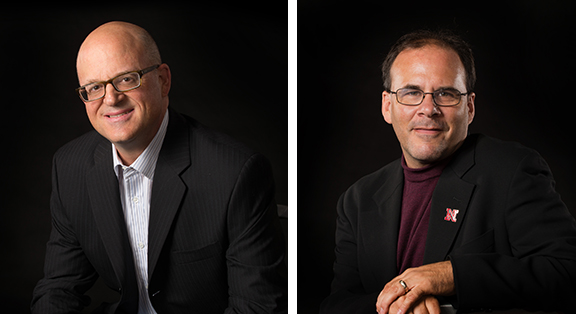 Associate Professor of Film Rick Endacott and Assistant Professor of Film Steve Kolbe's instructional video "StageCraft: Building Flats and Platforms" has won a Silver Screen Award from the U.S. International Film and Video Festival.

The idea for "StageCraft" began more than 10 years ago when Endacott was producing and directing videos for mega-licensor Music Theatre International (MTI). From that experience, he determined that there was a lack of useful teaching materials for technical theatre practices aimed at young people and the adults who help them create theatre.

Part One of the StageCraft training series, "Building Flats and Platforms" provides everything the inexperienced set-builder needs to know to go from a bare room to a professional stage. From safety and shopping to planning and construction, the step-by-step video shows anyone how the pros get professional, reusable set pieces that look great and can be used again and again.

"We knew that more and more young people are doing theatre, but often they and their adults don't know how to do simple stagecraft—things like making a proper standard-sized flat," Endacott said. "We envisioned a series of video that would be both fun and visually engaging. I think that is what we've created, and that is what the Festival recognized."

Endacott produced the film with his colleague at Penn State University, William Kenyon. They received grant funding from their respective institutions to create a "proof-of-concept" first video. What resulted was the award-winning "Building Flats and Platforms," which competed in the education category of the Festival.

"Early in the process, I told William about my friend and colleague, Steve Kolbe, who had just joined our faculty," Endacott said. "Steve brings a unique visual sense and cool graphics to the project. It definitely doesn't look like your standard 'how-to' video. I'm thrilled that our work has been recognized with a Silver Screen award, and I know Steve's contributions were a large part of that."

With more than ten years of film and television experience as a technical director and animation supervisor, Kolbe noted that there are plenty of narrative film festivals, but far fewer competitions open to the broader range of video productions from around the world.

"It is nice to be recognized for this type of project—essentially using video and visual effects to enhance teaching," Kolbe said. "It can be hard to get recognition for something on this scale, something that isn't a 'movie' in the traditional sense."

Many of the unique visuals in the video were created using modern motion-tracking techniques commonly found in network television and movies.

"By combining animated details with live-action, we were able to create a more engaging experience. Knowing the audience would be kids, their teachers and other youth groups, we went all out to make it fun to watch," Kolbe said. "I confess, we also borrowed a page from 'Home Improvement' by shooting original segment titles and creating animated transitions from them."

Endacott hopes they can produce more videos in the series.

"Ten years ago, the video I helped produce for the Hixson-Lied College was recognized by the US Film & Video Festival. Now, to be included among our international colleagues is a great honor," Endacott said. "I hope that we can produce even more videos for the series. I think the audience will appreciate them and frankly, it's a blast to do them."

Founded in 1967, the U.S. International Film and Video Festival offers five mini-competitions in one by recognizing outstanding corporate, education, entertainment, documentary and student productions. Entries are judged against peers, meaning education competes with education, corporate against corporate, and so on.

Entrants from 19 countries received 120 awards in the Festival, including 16 first place Gold Camera Awards, 39 Silver Screen Awards and 64 certificates for creative excellence and one student certificate.