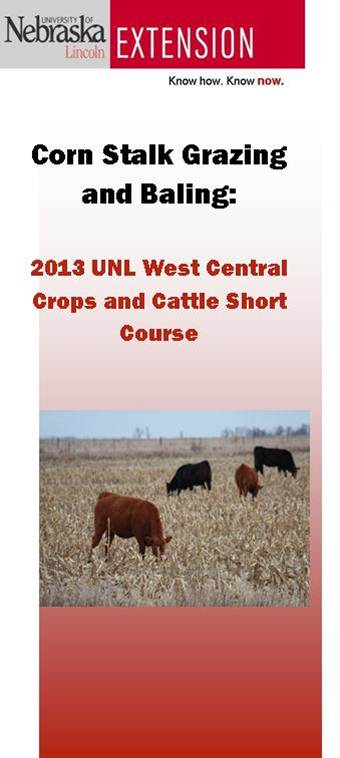 By Randy Saner, UNL Extension Educator

Plan to attend the 2013 UNL WCREC Crops and Cattle Short Course: Corn Stalk Grazing and Baling. Each spring, researchers at UNL's West Central Research and Extension Center identify topics and issues that are currently of great importance to crop and cattle producers and conduct this short course to address producer's needs in these areas. For 2013 the topic is corn stalk grazing and baling. Recent drought conditions have increased the importance of this management practice. The Crops & Cattle Short Course is unique in that it does not treat crop or beef production and individual entities. Instead it focuses on their integration and treats them as equally important parts of the same overall business enterprise. Topics covered will be:
• 2013 Weather Forecast
• Economics of Grazing and Baling
• Cattle Performance and Supplementation
• Stocking Rate Considerations
• Drought and Forage Production
• Grazing and Baling Effects on Soil Properties
• Water Resources and Management

The course will be held in North Platte at the West Central Research and Extension Center on March 12th and 13th from 7:30 am to 6:30 pm with an optional field day at the UNL West Central Water Laboratory near Brule on March 21st. The fee is $150 for the 1st person, $50 for each additional person which includes educational materials and meals.

For more information or to register contact Tim Shaver by e-mail at tshaver2@unl.edu or by phone at 308-696-6714.

More details at: http://go.unl.edu/czh