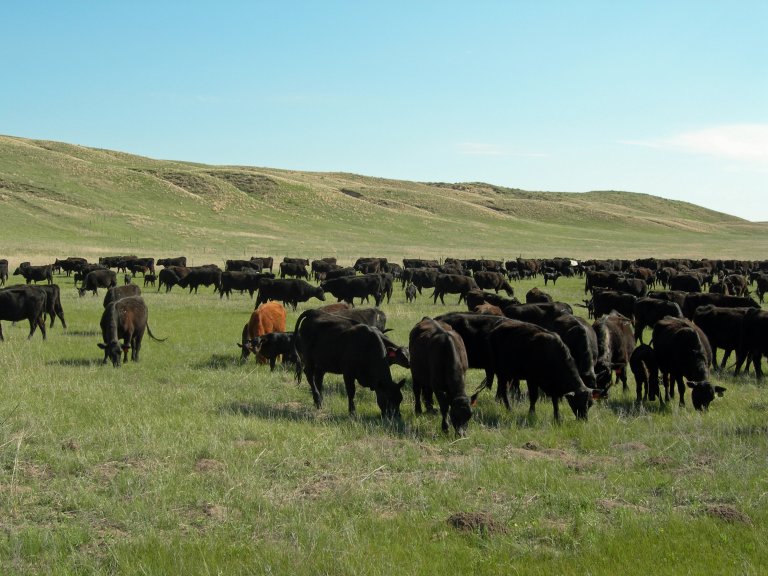 By Jim Jansen, Kate Brooks, and Bruce Johnson, UNL Department of Agricultural Economics

From the earliest days of settlement, the livestock industry has been a significant economic and cultural part of Nebraska history. From its rich prairie grasslands to the early development of Omaha around the meat packing industry, no area has been untouched by the livestock industry.

The industry has continued to evolve, placing Nebraska among the top livestock producing states in the nation. Currently the state ranks 1st in commercial red meat production and commercial cattle slaughter, 2nd in cattle and calves cash receipts, 3rd in meat animals cash receipts, 4th in all livestock and products cash receipts and beef cows and heifers calved, and 6th in all hogs and pigs produced. Moreover, Nebraska ranks among the top five states in the production of major feed grain and oil seed crops and ethanol production (its distillers grain by-product is used for livestock feed). This livestock/crop combination provides a unique synergistic system for Nebraska. In turn, both the state and sub-state regional economies have been impacted positively — particularly in those areas where value-added processing has accompanied livestock production.

However, the U.S. livestock industry is changing rapidly in response and reaction to multiple forces. Global food demand, particularly protein-based demand, is growing rapidly, which at least partially explains expanded U.S. livestock-based exports in recent years. Consumer demand, both domestic and foreign, is being shaped by health and nutrition, food safety, humane treatment of animals, and environmental concerns, as well as economic considerations. Meanwhile, the production side of the industry is facing the challenges of remaining economically viable in the face of small and highly volatile profit margins and a vertically-integrated industry that is increasingly responding to larger macro-economic forces beyond its control. The consequences of this are an industry that is changing rapidly in both the structural configuration of livestock production and its geographic location. How Nebraska's livestock industry is adapting to these changes is the focus of a report recently released by the UNL Agricultural Economics Department. The full report can be found at: http://go.unl.edu/livestockindustry

The report provides a snapshot of the current livestock industry in Nebraska and trends over the past 10 years. Assembling data from several sources, a set of benchmarks is used to track trends as well as comparative relationships with other states. Its intent is to provide readily accessible insight for industry stakeholders, policy makers, and researchers.