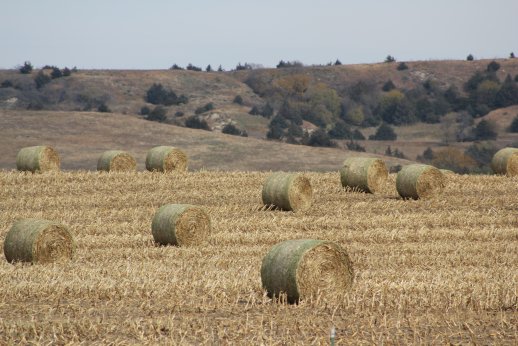 By Bruce Anderson, UNL Forage Specialist

BALING STALKS FOR WINTER FEED
Your corn is about to get combined. Maybe you are wondering if you should bale some of the stalks. Is it worth it?

What are corn stalk bales worth? One way to look at it is from the cost stand point. Nutrients removed by stalk bales may need to be replaced with extra fertilizer. Using this fall's prices, stalks contain about ten to twelve dollars' worth of nitrogen, phosphate, sulfur, and lime per ton.

Corn stalk removal also can reduce soil organic matter, increase erosion risk, and increase soil water evaporation. Nebraska research shows that dryland corn yield declines about two bushels for each ton of residue removed while irrigation costs increase similarly to maintain corn yield. That's another ten to twelve dollars per ton.

Baling stalks tends to cause more wear and tear on equipment than other baling operations so labor and equipment costs average twenty to twenty-five dollars per ton. Totaled together, these costs amount to forty-five to fifty dollars per ton of corn stalks removed.

So, what are corn stalks worth as a feed? One rule of thumb suggests the dollar feeding value is just a bit higher than straw. But feed value of stalks varies greatly, and cattle tend to waste more of it. If you bale the entire field you may only have three to four percent protein and less than fifty percent TDN. Harvest just the tailings in the two or three rows behind the combine and TDN increases to the lower fifties and protein to about five percent. But you should test to make sure.

Are baled corn stalks worthwhile? These numbers suggest that it may be a toss-up, depending a lot on local feed supplies and your individual ability to either cut costs or feed efficiently.


WINTER ANNUALS INVADING WARM-SEASON PASTURES
Fall moisture is setting the stage for a bumper crop of cheatgrass and downy brome next spring, especially in heavily grazed warm-season grass pastures. What can you do to minimize this problem?

When cheatgrass, downy brome, and other cool-season plants invade warm-season grass pastures and rangeland, they shift good grazing away from summer.

Cool-season grasses take over summer pastures relatively easily because they develop rapidly during fall and spring when native grass provides little competition. Then they use moisture and nutrients during spring before warm-season plants have a chance to use them.

Heavy grazing this fall when warm-season plants are dormant after a hard freeze as well as grazing very early next spring will weaken and reduce competition from these winter annual weeds. This can limit further invasion and slowly improve summer production. A prescribed spring burn also can do wonders for a warm-season pasture if you have enough fuel to carry a fire and can conduct the burn safely and legally.

An even faster approach is to apply glyphosate herbicides like Roundup now in late fall after the warm-season grasses have gone dormant due to a hard freeze. Hard freezes turn warm-season plants dormant but the weedy cool-season grasses remain green. Apply glyphosate when temperatures during the day are above 60 degrees and nighttime temperatures stay above 40 degrees for best results. This will kill or weaken the green and susceptible cool-season weedy grasses but not affect dormant warm-season plants. By reducing competition, warm-season plants will grow more vigorously next year and provide better summer pasture.

Don't settle for invaded native pasture. Transform them back to vigorous warm-season grasses for better summer grazing.