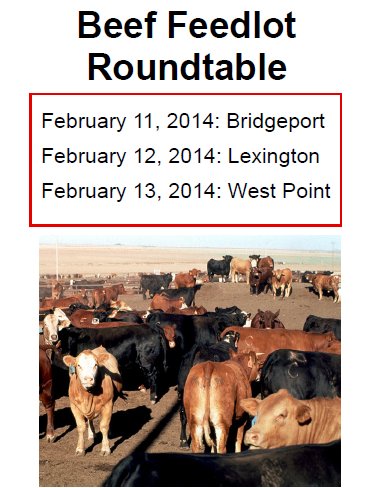 Beef feedlot managers, owners, employees and supporting industry personnel will learn the latest in feedlot health, nutrition, environment and economics at the 2014 Beef Feedlot Roundtables Feb. 11-13 in Bridgeport, Lexington and West Point, with remote connections to locations in Iowa.

The University of Nebraska-Lincoln Extension Roundtables will be offered Feb. 11 at the Prairie Winds Community Center in Bridgeport, Feb. 12 at the Holiday Inn Express in Lexington, and Feb. 13 at the Nielsen Community Center in West Point.

Registration is from 8-8:30 a.m. local time, with introduction and welcome at 8:30 a.m. by local extension personnel.

University and industry representatives will speak on feedlot economics, animal health, nutrition and management and other timely topics for feedlot operators. Topics and presenters include:

– Changes in gain during feeding period (Jim MacDonald, UNL Animal Science)

– Using fiber for cattle or ethanol (Galen Erickson, UNL Animal Science)

– Large animal mortality composting (Amy Schmidt, UNL Biological Systems Engineering)

– BRD bacterial pathogens and antimicrobial resistance (Dustin Loy, UNL Veterinary Diagnostic Center)

– FDA eliminates antibiotic use for growth promotion and efficiency; what does this mean for producers? (Dee Griffin UNL, Great Plains Veterinary Education Center)

– Cattle shifts and market outlook (Kate Brooks, UNL Ag Economics)

– UNL feedlot research update (Matt Luebbe, UNL Panhandle Research and Extension Center)

– Feedlot audits (Rob Eirich, UNL Panhandle Research and Extension Center)

– Optional: Beef Quality Assurance training (following regular adjournment) (Rob Eirich, UNL Extension, Nebraska BQA Director)

The Nebraska Beef Council will give an update on new beef products and sponsor lunch.

Preregistration is available by phone, fax, e-mail or mail, and requested by Feb. 5. Cost is $30 for those who preregister, and will be accepted at the door. Cost for those who have not preregistered will be $40. For more information or a registration form contact Matt Luebbe at the UNL Panhandle Research and Extension Center, 4502 Ave. I, Scottsbluff, NE 69361, phone 308-632-1260, fax 308-632-1365 or e-mail mluebbe2@unl.edu.

A downloadable and printable brochure with registration form also can be accessed at http://go.unl.edu/op53.

The Beef Feedlot Roundtable is sponsored by UNL Extension, ISU Extension, and the Nebraska Beef Council.