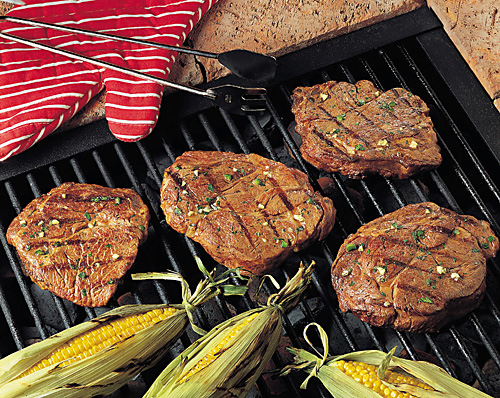 By Bethany Johnston, Nebraska Extension Educator

As the weather warms, are you getting the urge to dust the snow off the grill cover? Summer is the perfect time to grill steaks or smoke some beef ribs! Clean the grill, restock the fuel, and start shopping for flavorful and juicy beef cuts!

Here are just a few new trends for 2015:
*Smoked meats is trending. Add a layer of smokiness to the flavor profile, while tenderizing less tender cuts of beef.

*Buying meat locally is also popular, as buying locally is a great way to support the farmers and ranchers in your community.

*The fat phobia may be trailing off, as butter and lard become more popular. Say "hello" to the juiciness and flavor that marbling, or the fat flecks in meat, can provide. Fat in beef also provides conjugated linoleic acid, which has health benefits.

*Fall-off-the-bone BBQ beef spare ribs.

As you plan summer meals, keep the heat out of the kitchen by grilling. Hamburgers, hot dogs, and steaks can be cooked on a hot grill, in a fairly short amount of time.

Cooking in a crockpot, or on a low heat grill allows for less tender cuts of meat to melt into a delicious meal. Beef roasts (chuck or arm) can be slowly cooked and shredded for BBQ sandwiches, spicy shredded beef tacos (also called "Carne Deshebrada"), or French dips. The trending beef spare ribs can also be cooked or smoked "low and slow".

Quick snacks that won't heat up the kitchen include beef nachos. Brown ground beef with taco seasoning. Top nacho chips with the beef mixture and cheese. Bake in the oven at 350 degrees until the cheese is just melted. Top with sour cream, salsa, diced tomatoes, peppers, onions avocados, and olives.

Another tasty and unique snack is beef pickle rounds. Spread softened cream cheese on slices of chipped beef (found in the deli section). Place a pickle in the middle and roll the beef around the pickle. Cut into circles and enjoy!

If you are on the go and need a snack that keeps well, beef jerky is another easy snack to pack this summer!

As you plan outdoor cooking and family gatherings, http://www.beefitswhatsfordinner.com for beef grilling ideas and recipes!