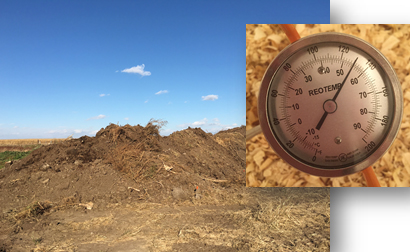 By Amy Millmier Schmidt, UNL Livestock Bioenvironmental Engineer

Nebraska Extension is hosting a livestock mortality composting educational event on December 15 at the Agricultural Research and Development Center (ARDC) near Mead and Ithaca, NE. This event is open to the public and is designed to provide livestock producers and industry stakeholders with information about planning and operating a livestock mortality composting system.

Proper management and timely disposal of livestock mortalities is important to ensure farm biosecurity and environmental protection. Composting is a biosecure method for on-farm disposal of livestock mortalities and Nebraska State Statue allows for composting mortalities of any size.

The event begins at 10:00 am and will include short presentations from experts with Nebraska Extension, the Natural Resources Conservation Service (NRCS), the Nebraska Department of Environmental Quality (NDEQ), and the Nebraska Department of Agriculture (NDA) discussing planning, construction, and management of mortality compost systems. A visit to an on-site mortality composting pile will provide attendees an opportunity to view the compost process up close, see how the pile is managed, and learn how to establish a new pile during a demonstration process. Lunch will be provided and is sponsored by A-FAN (Alliance for the Future of Agriculture in Nebraska) with the event wrapping up by 2:00 pm. Additional event details can be found at http://tinyurl.com/compost-demo.

Attendees are asked to RSVP by December 11 to assist with meal planning by contacting Amber Patterson at apatterson6@unl.edu or 402-472-1646. Questions can be directed to event planners Amy Schmidt (aschmidt@unl.edu or 402-472-0877) and Larry Howard (lhoward1@unl.edu or 402-372-6006).


To listen to BeefWatch podcasts go to: https://itunes.apple.com/us/podcast/unl-beefwatch/id964198047 or paste http://real.unl.edu/podcast/BeefWatch-15/BeefWatch.xml into your podcast app.