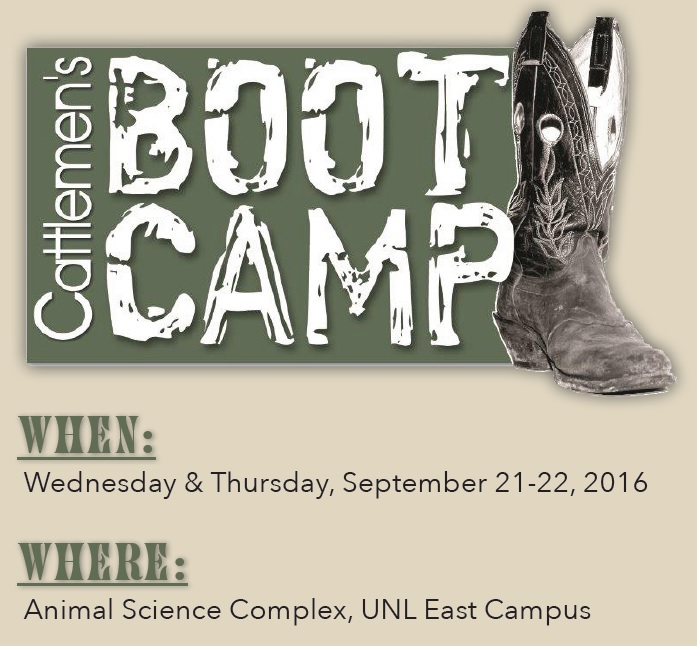 By Brad Bennett, NE Extension Educator

The University of Nebraska-Lincoln Department of Animal Science is proud to partner with the American Angus Association to host the Cattlemen's Bootcamp September 21 and 22, 2016. This informational, two-day event will cover many relevant and timely topics affecting the cattle industry and will provide those in attendance with tools to utilize in their own operations.

Nationally-renowned researchers, extension professionals, and industry leaders from UNL and the American Angus Association will present information covering economics, nutrition, reproduction, source verification, and much more.

Registration for the event is $75/person and covers all supplies, reading material, and meals associated with the event. Hotel reservations can be made individually at any of the area hotels in close proximity to UNL's East Campus.

A detailed schedule can be seen here: http://go.unl.edu/q9nf . There are a limited number of late registrations that will be accepted until all available spots are full. Those wishing to attend should register by September 2nd by visiting the American Angus Association website (http://www.angus.org), clicking on the "Events" tab, and then selecting "Event Registration". Any questions regarding the Cattlemen's Bootcamp can be directed to either Brad Bennett (bbennett8@unl.edu) or Alli Raymond (araymond2@unl.edu).