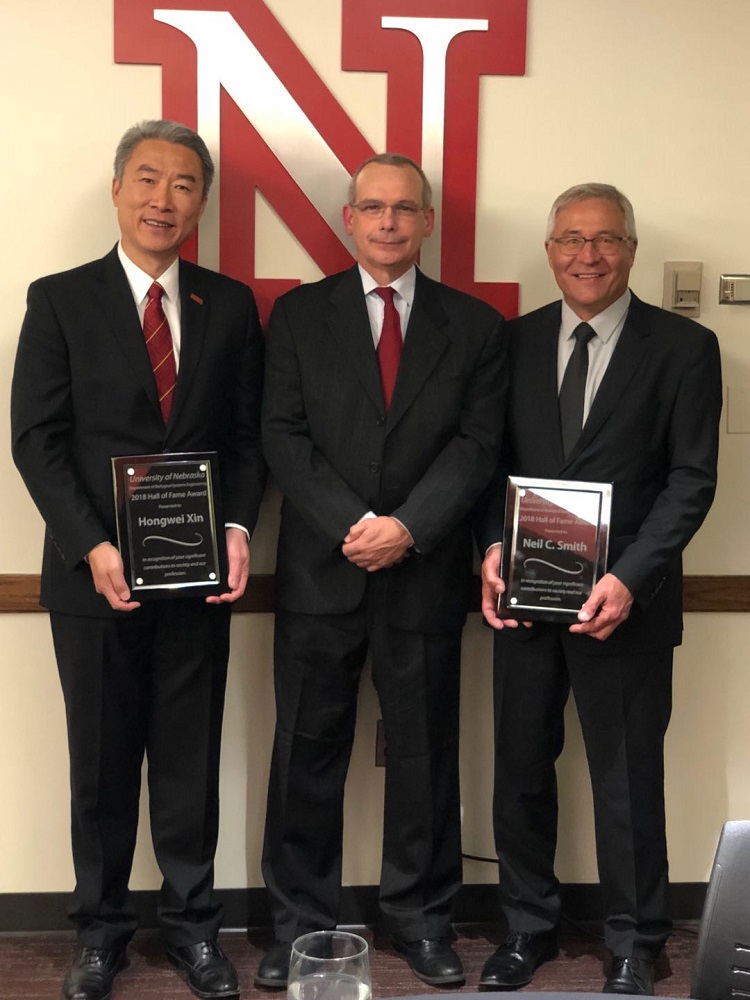 On Thursday, November 29, the Biological Systems Engineering Department welcomed two new inductees to the BSE Hall of Fame: Neil Smith and Dr. Hongwei Xin. The inductees were honored at a ceremony and banquet attended by Hall of Fame committee members, emeriti faculty, and current faculty.

Neil Smith, PE and MBA, is the General Manager of CON-E-CO in Blair, Nebraska. A native of Minden, Neil obtained his bachelor's degree from BSE in 1975. Neil then worked for Valmont Industries after graduation for a decade in the area of design and sales of center pivot irrigation systems. In 1987, he opened his own company, CON-E-CO, and grew annual company sales from $4M to over $60M. The company was acquired by Oshkosh Corporation in 2005. Neil also serves or previously served as a board member for the National Ready Mix Concrete Association, Concrete Plant Manufacturers Bureau of the NRMCA, and the Association of Equipment Manufacturers.

In his remarks, Neil shared how Nebraska and BSE made him ready to take on a challenging career. He felt confident in starting his own company through his education and rich experiences. He also shared fond memories of being a classmate with faculty member Derrel Martin.

Dr. Hongwei Xin is currently the Assistant Dean for Research, College of Agriculture and Life Sciences, and Charles F. Curtiss Distinguished Professor, Department of Agricultural and Biosystems Engineering, at Iowa State University. He also is the Director of the Egg Industry Center. Hongwei received his master's and doctoral degrees from BSE in 1985 and 1989. Hongwei served as the PI or co-PI for grants totaling over $23.7M and authored over 190 refereed journal articles in areas including air quality issues related to animal production, animal-environmental interactions, and precision livestock farming. He is the recipient of major awards including ASABE's prestigious Cyrus Hall McCormick-Jerome Increase Case Gold Medal Award.

Passion and dedication to hard work were the themes of Hongwei's banquet remarks. Hongwei shared his story of growing up in China. His father influenced him to get a college education, work hard, and be passionate about his research. Hongwei applied this knowledge throughout his long and successful career, and urges that it is a key to fulfilling work.

Neil and Hongwei generously gave their time during the day prior to the ceremony to meet with the department. They toured the Nebraska Tractor Test Lab, the Industrial Agricultural Products Center, and other laboratories. They also ate lunch with BSE graduate and undergraduate students where they shared their educational and careers experiences and answered the many questions put forward to them.

BSE is thrilled to have two distinguished members joining the Hall of Fame. Since 1995, the BSE Hall of Fame has been celebrating more than a century of achievement in our department. Portraits of all Hall of Fame inductees are displayed in Chase Hall.