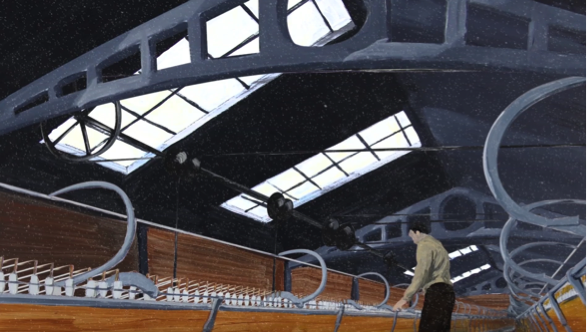 TMFD's Assistant Professor of Practice Michael Burton awarded UNL Arts and Humanities grant

With support from the UNL Arts and Humanities Research Enhancement Program Michael Burton (principle investigator, co-producer, and lead animator) and William Thomas (co-producer), Professor, Department of History will begin preliminary production of No Ordinary People by hosting a Spark Talk to identify key writing and production help both at and outside of UNL. During the following year Michael and his team will produce the animation. Once cut into short format the animation will be entered into short film competitions as a viability study to determine competitiveness at the national level in outlets such as South by Southwest and Tribeca film festivals.

Any interest in this project is greatly appreciated. Please feel free to attend the Spark Talk in the CEHS HUB, Henzlik Hall on 2/19/16 at 3:30PM to contribute. Email mburton4@unl.edu for more info.

No Ordinary People: Anna
In November 1815 an enslaved women threw herself out of a third floor window in the city of Washington, D.C., rather than be sold south and taken away from her husband and family. Her name was Anna.

Anna's story will be made visible through the medium of animated painting and a voice-over narration describing the emotional distress that caused her to jump to what could only be her death or salvation. Anna gave herself two choices and neither included a reunion with her husband and children. She had resigned herself to never seeing them again.

200 years later this work will visualize what pamphlets and a single lithograph were able to spark; a sensation in the anti-slave trade circles of the time and a Congressional investigation into the interstate slave trade and the kidnapping of free blacks. More importantly this work will recover the visibility of her story from history.

Upon completion No Ordinary People will be released to film festival competitions, public screenings, and on http://www.earlywashingtondc.org.


Michael Burton: (Principle investigator, co-producer, and lead animator): Michael's work combines painting and animation to create visceral scenes that tell the stories of people with extraordinary pasts. He most recently completed animations for a PBS documentary about a Sioux family whose patriarchs fought in WWI and Vietnam, toured with Buffalo Bill, and survived the Fort Robinson Massacre of 1879. Michael's work has been included in exhibitions of new media at the Denver Art Museum, RISD Art Museum, Joslyn Art Museum, and the Sheldon Art Museum.

William G. Thomas III (co-producer): In 2015 conducting research for earlywashingtondc.org, a project documenting all petitions for freedom in the D.C. courts and the family and social networks of early D.C., Thomas identified the protagonist as Anna and uncovered the remarkable story of her petition for freedom seventeen years after her attempted suicide.

Thomas is the John and Catherine Angle Professor in the Humanities and Professor of History at the University of Nebraska. He currently serves as the Chair of the Department of History. He is a Faculty Fellow of the Center for Digital Research in the Humanities. He has produced award-winning digital history projects, and his research has been funded by the National Endowment for the Humanities and the American Council of Learned Societies. He is currently writing a history of early Washington, D.C. and the problem of slavery and freedom in post-Revolutionary America.