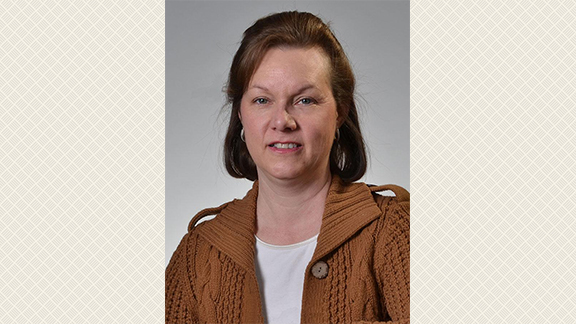 Diane Pope, secretary in Educational Administration, has been selected as the December Staff Star Award recipient. Pope has served EDAD since 2005 and has been with the University of Nebraska–Lincoln continually since 1988.

Her ability to innovate and multitask were among the skills nominators wrote about. Pope's responsibilities during a recent search process for a new department chair were cited as an example of her qualifications for the award. "Diane was an integral part of that Chair search being successful, and it could not have been done without her," said a nominator.

Stationed out front in the office, Pope is the front line for the department. The first impression, according to another nominator, is always a good one. "She consistently represents our department in a professional yet friendly way; I have never seen Diane fail to offer a warm smile and/or present a helping disposition."

Pope's departmental duties include arranging travel details for faculty, scheduling and assortment of EDAD meetings and scheduling doctoral dissertation defenses. Her administrative support of the National Council of Instructional Administrators was also appreciated by a nominator who said Pope's knowledge of NCIA was invaluable.

"She consistently does the little extras, while making it all seem routine," said a colleague who is also amazed at how Pope "handles the near-constant interruptions that come with life in the outer office with efficiency and constant professionalism."

According to nominators, Pope "finds a way to make things happen" and "does whatever she can" to take care of problems and the needs of faculty, students and others.

To nominate a staff member for a future award, please visit the Staff Council webpage to fill out the online nomination form.