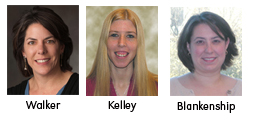 The Nebraska Math and Science Summer Institutes (NMSSI) coordinators seek to offer the best instruction possible to Nebraska's K-12 math and science teachers. The goal is to offer rich courses that include challenging experiences designed to strengthen content and pedagogical knowledge, delivered by outstanding instructors – whether University faculty or K-12 teacher leaders. Three NMSSI instructors were recently the recipients of prestigious teaching awards sponsored by the University of Nebraska-Lincoln.

Judy Walker, Chair of the Department of Mathematics, was named the 2012 Aaron Douglas Professor. This award is given to a faculty member holding the full professor rank who demonstrates sustained and extraordinary levels of teaching excellence and national visibility for instructional activities and/or practice. Walker (who has been the recipient of several additional teaching awards) is scheduled to teach NMSSI course Math 806T: Number Theory and Cryptology for Secondary Teachers in Lincoln, July 9-13, in Summer 2012.

Christine Kelley, Assistant Professor of Mathematics, received a 2012 Arts & Science College Teaching Award for her excellence in teaching. Kelley will be the instructor for NMSSI course Math 804T: Experimentation, Conjecture & Reasoning in Lincoln, June 18-22.

Erin Blankenship, Associate Professor of Statistics, was awarded a 2012 Holling Family Award for Teaching Excellence in Agriculture and Natural Resources. Blankenship will be the instructor for STAT 892: Statistics for High School Teachers, June 4-15 in Lincoln, in Summer 2012.

To find out more about NMSSI courses being offered this summer, visit our website at http://scimath.unl.edu/nmssi.
More details at: http://go.unl.edu/j07