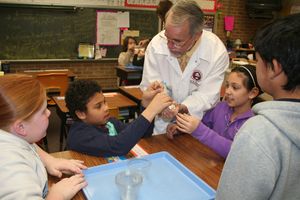 Teachers who make a difference:
Florence Wilson inspired Nebraska Department of Education's Science Education Director Jim Woodland

I didn't want to teach, I wanted to get out of college ASAP. Then I was assigned to student teach in Florence Boring's eighth-grade science classes at Lincoln's Lefler Junior High School. It was a transforming event in my life. During that fall semester I learned everything you would expect from that experience, classroom discipline, using alphabet curriculum courses, grading, interacting with students, scheduling field trips, and behaving like a professional. She led by example. It was her involvement with so many science related activities that influenced my decisions to become involved in professional organizations. In addition to her involvement with NAS she flew in the Powder Puff Derby, was an active member of the Lincoln Gem and Mineral Society, and Civil Air Patrol. She was also a personal secretary to John Neihardt, Poet Laureate of Nebraska. Fortunately my association with Florence (now Wilson) did not end at the semester. We kept in contact sharing our professional as well as personal experiences. When I showed her pictures of my trip to the Grand Canyon she talked about using them in my classroom. After hearing about my summer field course to the Southwest she suggested that I present at the NAS Spring Meeting. That led to my presenting at NATS, and then other professional meetings. After retirement she married Midland Lutheran College professor Gilbert Lueninghoener. She cataloged the rock and mineral display in their science building. I am truly blessed to have Florence as a mentor and a friend.

Read more stories about inspiring teachers and submit your own at: http://scimath.unl.edu/giving/inspiringteachers.php.
More details at: http://go.unl.edu/65z