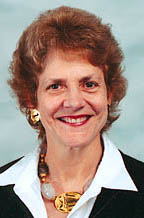 Co-Principal Investigator of NebraskaMATH Carolyn Pope Edwards, Willa Cather Professor and professor of psychology and child, youth, and family studies at the University of Nebraska-Lincoln, gave the summer commencement address at the postgraduate ceremony on Aug. 10, 2012, to more than 800 graduates at the Bob Devaney Sports Center.

Edwards has played an instrumental role in the development of NebraskaMATH's Primarily Math program, a major research and development program that is studying the impact of a K-3 Mathematics Specialist certificate program for primary grade teachers on teacher knowledge and the transfer of that knowledge to the students they teach.

More than 400 graduate students received diplomas. Read our accompanying story in this newsletter highlighting 10 teachers who received their MAT or MA degrees that day including four who were part of the Primarily Math program.
More details at: http://go.unl.edu/st9