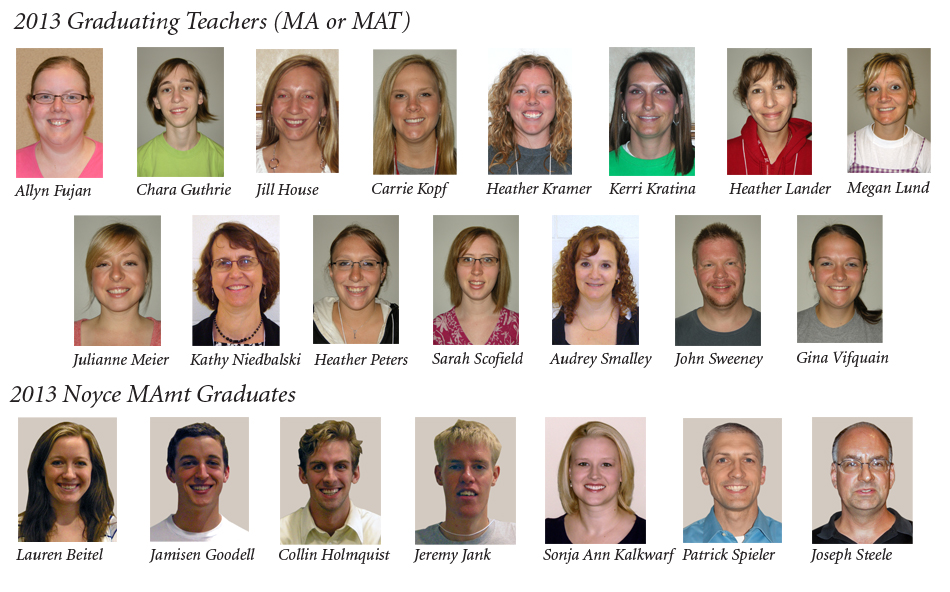 Congratulations to the 15 Nebraska teachers who earned master's degrees from the University of Nebraska-Lincoln on May 4 or Aug. 16, 2013, in part as a result of their participation in NebraskaMATH or the Nebraska Math and Science Summer Institutes. Seven NebraskaNOYCE Teaching Fellows also graduated with a Master of Arts in Mathematics Teaching.

The 11 teachers who earned a Master of Arts for Teachers (MAT) from the Department of Mathematics are: Chara Guthrie, Lincoln Pius X High School; Carrie Kopf, Norfolk Senior High School; Heather Lander; South Sioux City Middle School; Megan Lund, Lincoln Christian High School; Julianne Meier, Lincoln Southeast High School; Kathryn Niedbalski, Kearney Catholic High School; Heather Peters, Spalding High School; Sarah Scofield, Lincoln Southwest High School; Audrey Smalley, Grand Island Senior High; John Sweeney, Geneva North High School; and Gina Vifquain, Lincoln Southwest High School.

Three elementary teachers also earned a Master of Arts degree from the Department of Teaching, Learning and Teacher Education in August: Allyn Fujan, Brownell Elementary in Lincoln; Heather Kramer, Roper Elementary in Lincoln; and Kerri Kratina, Saddlebrook Elementary in Omaha. Jill House, a math coach for Omaha Public Schools, earned her MA in May 2013.

To see a list of the teachers and graduates of the MAT and MA degree programs, visit our website at: http://scimath.unl.edu/csmce/mat_ma_degrees.php.

The seven MAmt graduates from the Noyce program will start teaching this fall at the following schools: Lauren Beitel, Omaha Bryan High School; Jamisen Goodell, Omaha Bryan High School; Collin Holmquist, Omaha Bryan High School; Jeremy Jank, Lincoln North Star High School; Sonja Ann Kalkwarf, Cedar Bluffs High School; Patrick Spieler, Omaha Central High School; and Joseph Steele, Omaha Northwest High School.

We are proud of your accomplishments!
More details at: http://go.unl.edu/isj