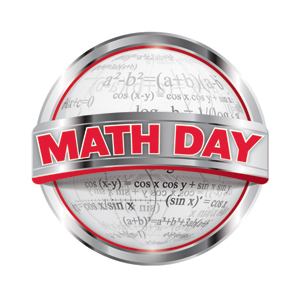 Teachers are welcome to register after noon on Thursday, Sept. 5, for the 24th Annual UNL Math Day, being held on Thursday, Nov. 21, 2013. Registration will be open online at http://go.unl.edu/mathday.

Several improvements have been made to the structure of Math Day for this year and the future of the event. The most significant change is that there will now be six classes, named by Roman numerals. Each class is based strictly on total student enrollment at the school. Here are the new class sizes:

Class I 1,500 students or more
Class II 750 to 1,499 students
Class III 250 to 749 students
Class IV 125 to 249 students
Class V 75 to 124 students
Class VI 0 to 74 students

These class sizes will not change from year to year. However, each year you can request to move up if you would like.

Due to the new class structure, there will now be four rounds of the bowl team competition in the morning and six rounds in the afternoon, plus the championship rounds. There will no longer be an option for a second bowl team.

In an effort to encourage your school to bring as many students as you can and also to keep up with our rising costs for Math Day, we have changed the student pricing structure. Here is the breakdown:

• Bowl Team Price - $50:
Includes 6 student registrations and lunches, up to 2 lunches for teachers/coaches and the entry fee for 1 bowl team (3 members and up to 3 alternates)
• Additional Students - 7 through 15: $7 per student (includes lunch)
• Additional Students - 16 or more: $6 per student (includes lunch)
• Individual Price (No Bowl Team) - $7 per student (includes lunch, and we will cover cost of lunch for 1 teacher/coach)

We are also reducing the number of students who qualify to take PROBE II from 50 to 40 (plus ties). Making this reduction and changing the bowl competition schedule have allowed us to give PROBE II students time to eat lunch! In fact, they will have the opportunity to eat with Dr. Judy Walker, chair of the Department of Mathematics, at the end of the exam and before the afternoon bowl rounds begin for Classes I, II and III.

The registration deadline is Friday, Oct. 18. Please email us at mathday@unl.edu with questions or check out our website for more information.