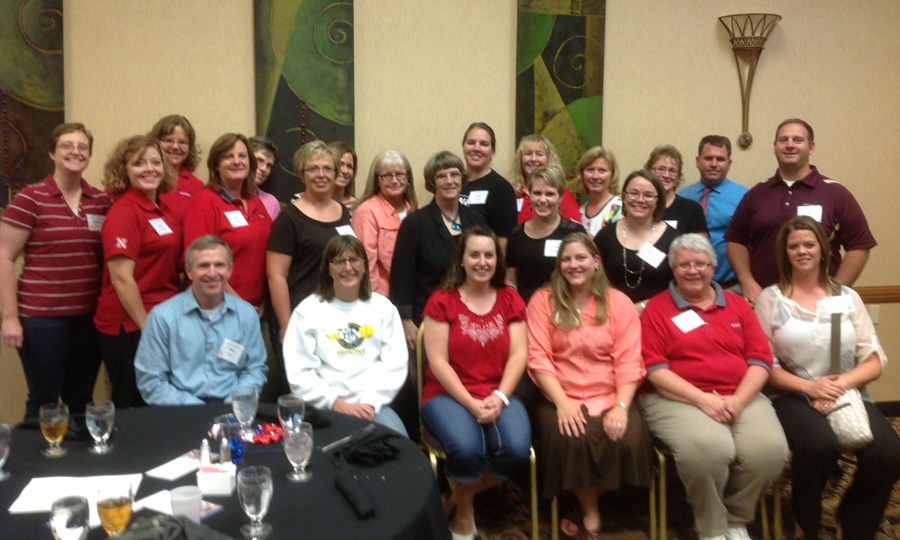 From last Sunday evening through Monday afternoon, the NATM Fall Conference provided a great time for math teachers to reunite with friends and be inspired by one another's ideas. Whether from Math in the Middle, Primarily Math, NebraskaNOYCE, Nebraska Algebra or the New Teacher Network, the NebraskaMATH social hour and Greater Nebraska Math Teachers Circle meeting, which took place on Sept. 29, provided a perfect place for teachers to visit and bond over mathematics.

There was a particularly strong showing of Math in the Middle graduates at the conference. While some teachers from every cohort 1-4 attended, 10 teachers from Cohort 3 were there! Check out our slideshow of photos of Math in the Middle Cohorts 1 to 4 at http://scimath.unl.edu/MIM.

Shelby Aaberg, a Noyce Master Teaching Fellow, also presented at NATM on Monday. His presentation was titled "CCSSM Practice Standards 2 and 4: Using Images to Maximize Student Engagement." It was announced at the conference that Aaberg also had been named a finalist for the 2013 Presidential Award for Excellence in Math & Science Teaching.

Other Noyce Master Teaching Fellows also presented. Dan Schaben spoke about "The Mathematics of Water in Agriculture" and Jill Edgren presented "Moving Toward a Paperless Class." Check out Schaben's blog at http://searchingformath.com.

More than 325 math teachers from across the state attended NATM. The morning started with a welcome from co-presidents Ed Ankrom and Erin Hamilton, both Beatrice High School math teachers. Participants then had the opportunity to attend five mini-sessions throughout the day. There were more than 30 sessions from which to choose. Highlights were sessions led by Linda Gojak, president of NCTM (National Council of Teachers of Mathematics), and Ruth Harbin Miles, NCTM board member. Recognition was given to past awardees of the Presidential Award for Excellence in Mathematics Teaching, which is celebrating its 30th year. This year's finalists are Aaberg and Cherrie Kerr, an instructor at Fremont High School. The Don Miller Distinguished Service Award was presented to Neal Grandgenett and Elliot Ostler, instructors at the University of Nebraska at Omaha. The Milton Beckman Lifetime Achievement Award was presented to Carol Jessen and Deb Wragge, staff development personnel with Nebraska ESUs. It also was announced that the 2014 NATM Conference will be held on Sept. 29 in Kearney at the Holiday Inn.