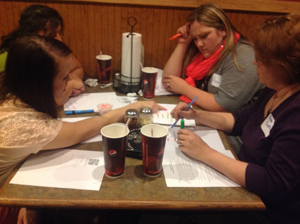 Math Teachers Circle meetings provide opportunities for mathematicians and teachers to discover and share with students the excitement and richness of problem solving in deep yet accessible mathematical topics.

Circles are scheduled to convene in the spring in Falls City, Hebron, Holdrege and Norfolk.

The Holdrege event will feature Dan Schaben on Thursday, Feb. 13, 6:30 p.m. to 8 p.m. at ESU 11. The presentation will be about "Rational Tangles," a delightful problem which involves adding and subtracting simple fractions and their reciprocals. Send questions or RSVP to Kate Hatch at khatch@esu11.org or Dan Schaben at daniel.schaben@arapahoewarriors.org.

Contacts for remaining locations can be found on our website: http://scimath.unl.edu/gnmtc/.