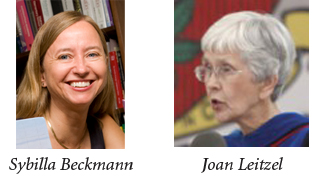 At the Joint Mathematics Meetings in Baltimore in January, prestigious awards were given to two mathematicians with links to NebraskaMATH.

Joan Leitzel, chair of the NebraskaMATH national advisory board, was the recipient of the Yueh-Gin Gung and Dr. Charles Y. Hu Award for Distinguished Service to Mathematics from the Mathematical Association of America, for her far-sighted work of creating programs to decrease the need for remediation in colleges and for her leadership on the national level. Leitzel is president emerita of the University of New Hampshire.

Sybilla Beckmann, whose book "Mathematics for Elementary Teachers" has been used in our Primarily Math program since 2009, was given the Louise Hay Award for Contributions to Mathematics Education from the Association for Women in Mathematics. Beckmann was recognized for her vision, persistence and leadership in enhancing the teaching and learning of mathematics. She is the Josiah Meigs Distinguished Teaching Professor of Mathematics at the University of Georgia.