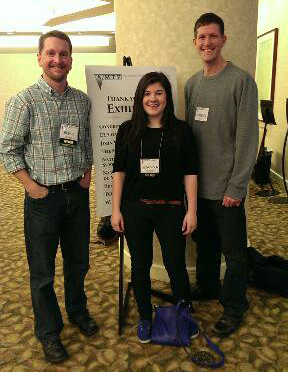 Omaha Central High School teachers Brent Larson (left), a Noyce Master Teaching Fellow, and Brianna Pinquoch (center), a Noyce Teaching Fellow, participated in a presentation with UNL Associate Professor Steve Swidler, Assistant Professor Lorraine Males, and CSMCE Assistant Director Wendy Smith at the 18th annual conference of the Association of Mathematics Teacher Educators (AMTE) in February 2014.

Their presentation was titled "Preparing Better Teachers: Multiple Perspectives on Secondary Mathematics Certification." The purpose of their symposium was to bring together the perspectives and voices of a pre-service teacher, her cooperating teacher, and university faculty, as they discussed a 14-month post-baccalaureate master's degree plus certification program for secondary mathematics teachers.

Noyce Master Teacher and Lincoln High math teacher Pat Janike (right) also attended.