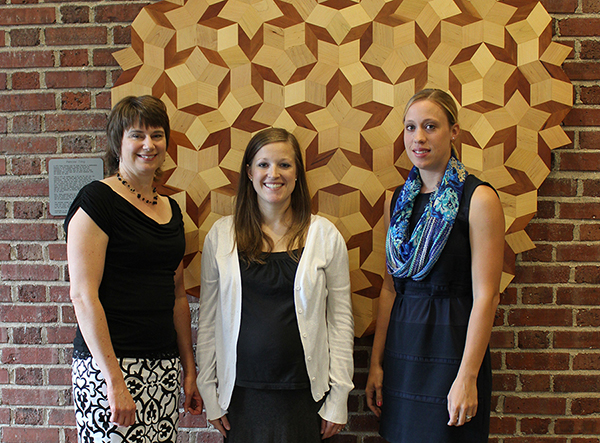 Congratulations to the 17 Nebraska teachers who will earn master's degrees from the University of Nebraska-Lincoln on Aug. 16, in part as a result of their participation in NebraskaMATH or the Nebraska Math and Science Summer Institutes. Four pre-service mathematics teachers also graduated with a Master of Arts in Mathematics Teaching.

The 13 teachers who earned a Master of Arts for Teachers (MAT) from the Department of Mathematics are: Courtney Beach, Hastings Middle School; Karen Clinch, Fremont High School; Mitchell Fricke, Millard Public Schools; Mandy Kehm, Omaha Marian High School; Jennifer Kreifels, Papillion Junior High; Dan Martin, Kearney Senior High School; Laura Novak, Nebraska City Middle School; Tiffany Ogden, Lincoln High School; Tiffany Powers, Lincoln Southwest High School; Kelli Roeber-Schoening, Lincoln Southeast High School; Kyle Schwaninger, Lincoln North Star High School; Leah Terry, Westside High School; and Shannon Wiig, Lincoln High School.

Four elementary teachers also will earn a Master of Arts degree from the Department of Teaching, Learning and Teacher Education in August: Jessie Anderson, Hay Springs Elementary; Amy Barton, Lakeview Elementary in Lincoln; Michelle Dubbert, Deshler Elementary; and Stephanie Hamilton, Elkhorn Valley Elementary. Bobbi Middleton of Madison Middle School, Christine Olsen of Central Park Elementary in Omaha and Amber Woitaskewski of Knickrehm Elementary in Grand Island also earned their MAs in May 2014.

To see more about the teachers in our graduate programs, visit http://scimath.unl.edu/csmce/mat_ma_degrees.php.

The four MAmt graduates will start teaching this fall at the following schools: Allison Dean, Lincoln North Star; Leo Fogel, Friend High School; Jessica Packard, Hastings Senior High; and Rachel von Kampen, Lincoln Northeast High School.

We are proud of your accomplishments!