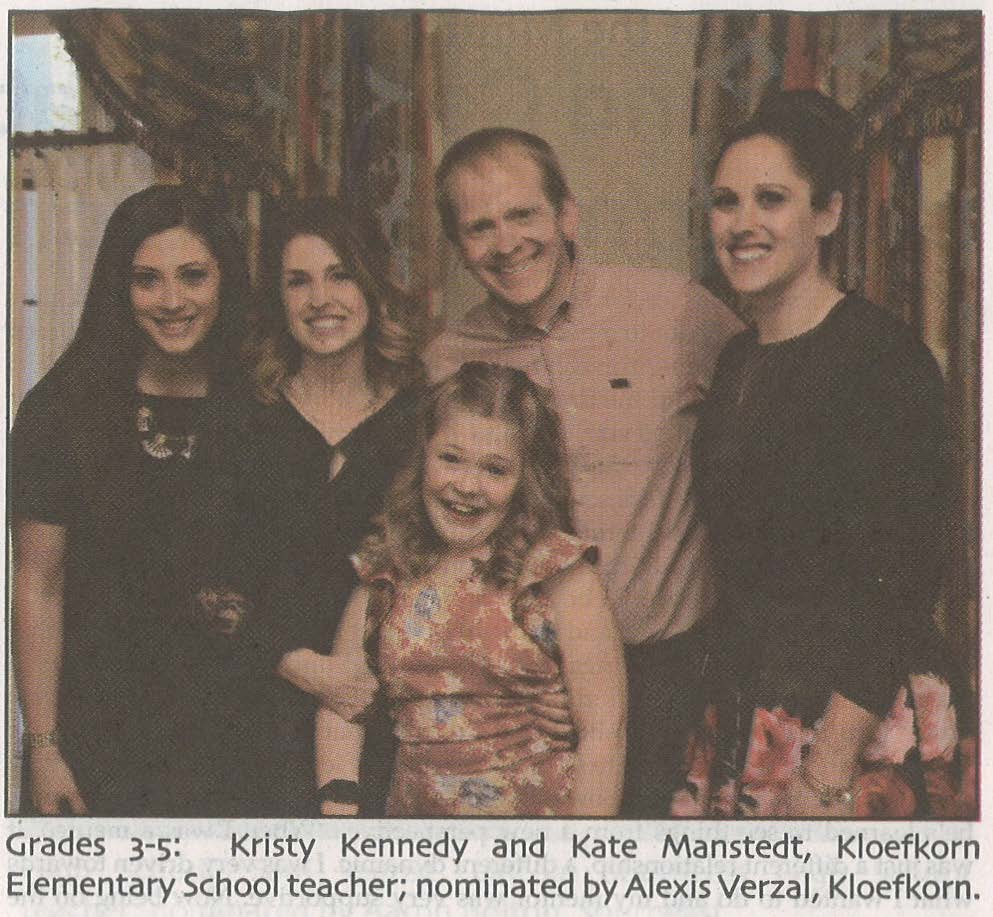 Lincoln Public Schools' Kloefkorn Elementary School teacher Kristy Kennedy, a Primarily Math graduate, and colleague Kate Manstedt supported and helped student Alexis Verzal to overcome a variety of challenges to become a successful student and wonderful reader in 2017, earning Kennedy and Manstedt a 'Thank You Teacher' award given out recently at the Governor's Mansion. Read more about the winners here: https://www.lps.org/post/detail.cfm?id=11709

Here is the nomination letter for Kennedy and Manstedt:
GRADES 3-5
Student: Alexis Verzal, fourth grade student at Kloefkorn Elementary (with parents Brandon and Tiffany)
Teachers: Kristy Kennedy and Kate Manstedt, Kloefkorn, fourth-grade and special education

We would like to nominate Mrs. Kennedy and Mrs. Manstedt for their work and success helping our daughter, Alexis Verzal, become a reader.

When Alexis was 14 months old she was shaken and thrown by her daycare provider leaving her in a coma for 10 days. When she woke up, she could not hold her head up, walk, talk, and she could not see anymore.

Alexis has received thousands of hours of medical rehabilitation as well as school services. When she was 3 years old, she become a part of the Lincoln Public School system. There have been many people who have touched her life and made her the student she is today.

Alexis has many physical challenges, as well as vision and memory deficits. Regardless of the amount of books we read, the tutor we hired, the vision therapy sessions, and the testing we did, we could not crack the code to help her learn to read. As parents, there have been many times that we wondered if she would ever be able to read. And because of that, we had started to prepare and move goals in order to help her be able to succeed without being able to read.

After two years of LPS preschool, Alexis entered kindergarten at Kloefkorn Elementary. She has always received Physical Therapy, Occupational Therapy, Speech Therapy, Vision services and has had a Special Education teacher. Her team has always made modification and Alexis has always made progress.

Going into fourth grade, Alexis was at a reading level of 4, a low kindergarten level. It had taken five years to get her to that point. Even though she had only moved one level per year, her teacher have never given up. They have tried countless programs and continue to make adjustments.

This year Alexis hit the jackpot of teachers. Mrs. Kennedy was a kindergarten teacher that got moved to fourth grade and Mrs. Manstedt was in her fourth year working with Alexis. Together, these two teachers have become a formidable team.

Since August, Alexis went from a reading level of 4 to a level 8! It had taken her 5 years to move four levels…and then in one semester to move four more! She is proud of herself, she wants to read books! Her speed while reading has increased. She knows when she makes a mistake reading - and is able to fix it without falling apart. It is hard to watch her read without getting tears in our eyes.

First and foremost, we would like to thank Mrs. Kennedy and Mrs. Manstedt for giving Alexis the gift of a lifetime. Most of all, we would like to thank these great teachers for seeing the potential in her and never giving up, even after years of very small bits of progress. Thank you for giving us hope again because sometimes, as parents of a special needs child, it's easier to see them happy and not make them work so incredibly hard.

Thank you Mrs. Kennedy for being willing to transfer your skills of teaching kindergartners how to read…and knowing that Alexis was ready for you even though she was a fourth-grader.

Thank you Mrs. Manstedt for continuing to search for an answer to the problem…instead of saying it would never happen.

As the American writer Kate DiCamillo once said, "Reading should not be presented to children as a chore or duty. It should be offered to them as a precious gift."

We say to you…thank you for this beautiful gift.