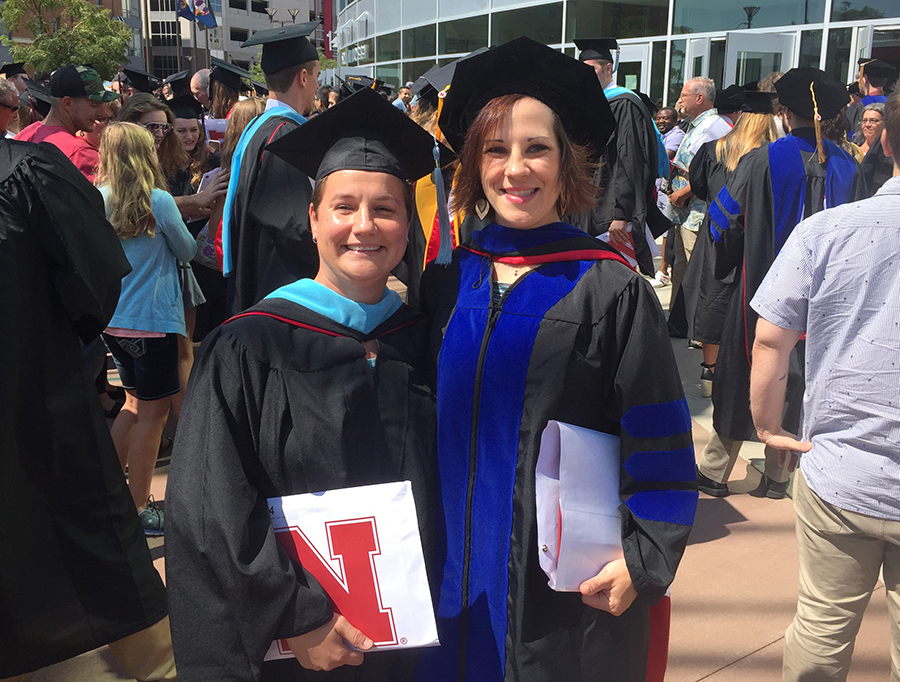 Congratulations to Paula Jakopovic, a NebraskaMATH doctoral graduate, and 18 additional Nebraska teachers who earned master's degrees from the University of Nebraska-Lincoln on Aug. 12, in part as a result of their participation in a NebraskaMATH program or the Nebraska Math and Science Summer Institutes.

Jakopovic, who completed Math in the Middle and was a NebraskaNOYCE Master Teacher, earned her Ph.D. in Educational Studies. Dr. Jakopovic is an elementary math coach at Belvedere Elementary and Mount View Elementary in Omaha Public Schools. Her adviser was Dr. Ruth Heaton.

Nine teachers earned a Master of Arts for Teachers (MAT) from the Department of Mathematics: Elizabeth Crabtree (Milford High School), Alexander Dostal (Springfield Platteview High School), Kyle Ediger (Hampton High School), Margaret Fisher (Lexington High School), Cody Gregory (Waverly High School), Celia Newman (Raymond Central High School), Mary Nuckolls (Wahoo High School), Ryan Treat (Huntington Elementary in Lincoln) and Brett Troyer (Crete High School).

Eight elementary teachers who previously completed Primarily Math or ITEAM also received a MA from TLTE: Amber Atkinson (Hartley Elementary, LPS); Katie Grant (Sherman Elementary, OPS); Nicole Janssen (Riley Elementary, LPS); Lacey Konwinski (Beattie Elementary, LPS); Maggie (Terry) Picou (Clinton Elementary, LPS); Amy Schommer (Huntington Elementary, LPS); Kelly Smith (Springville Elementary, OPS); and Teri Wiseman (Fullerton Magnet Center, OPS). High school teacher Michelle Reiman of O'Neill also earned a MA from TLTE in part by courses in the NMSSI.

We are proud of your accomplishments!