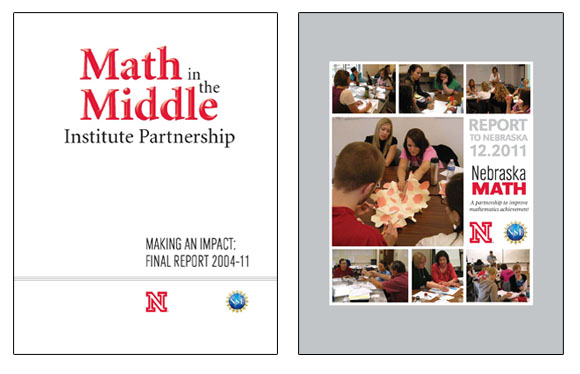 NebraskaMATH's "Report to Nebraska: 12.2011" and Math in the Middle's "Making an Impact: Final Report 2004-11" have been released and mailed to participating schools and teachers.

The progress of the five-year, $9.2 million NebraskaMATH grant over Years 2 and 3 (2010-11) is featured in "Report to Nebraska 12.2011." Read about the recent highlights of the Primarily Math, Nebraska Algebra and New Teacher Network programs, as well as updates on teachers earning master's degrees, the online community, and associated programs that further the long-term mission of NebraskaMATH.

As the $5.9 million Math in the Middle Institute Partnership came to a close in 2011, the grant and its success has had an enormous impact, greatly benefiting K-12 mathematics education in Nebraska's schools.

"Making an Impact: Final Report 2004-11" looks back at the scope of the partnership and the outcomes of its teaching methods and research.

Download a copy of the magazines online (look for "Products and Publications" near the bottom of the Center homepage). To receive a hard copy, contact the Center for Science, Mathematics & Computer Education at (402) 472-8965.
More details at: http://go.unl.edu/48o