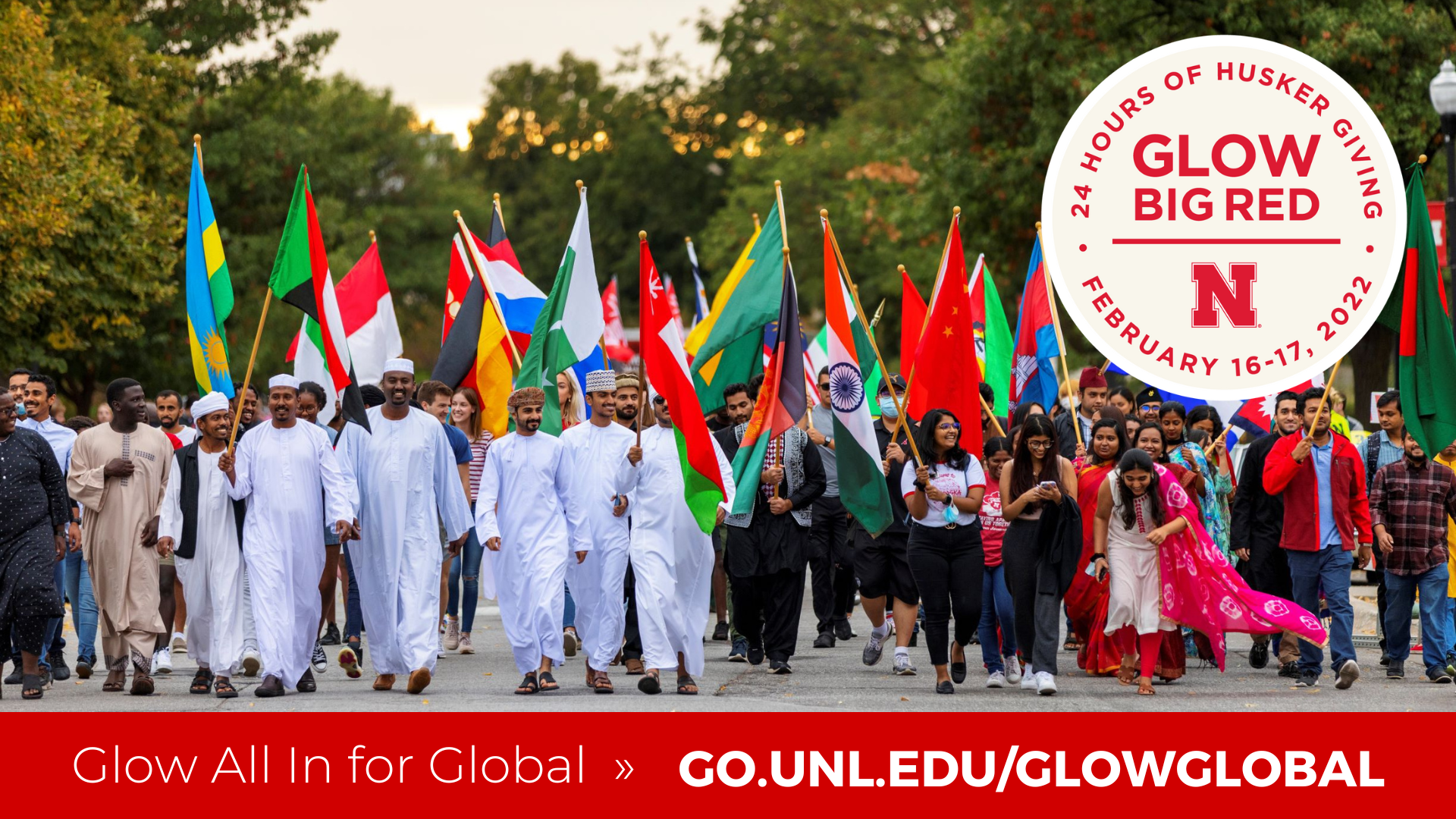 Give to Global Affairs this year for Glow Big Red
Dear Global Nebraska Community,

Over the last year, we've made significant progress in increasing global education opportunities and support networks for our students in alignment with the Forward Together global strategy. This week, from noon to noon Feb. 16-17, Global Affairs is celebrating Glow Big Red with 24 hours of Husker giving – and we invite you to join us in supporting global learning for all.

This year, we're aiming to raise $1,000 to sustain initiatives that will help today's students become Future and World Ready. With just $5 or more, your gift to Global Affairs can:

Provide funding for international students like Joevy Sum, who received a scholarship to help finish her undergraduate research thesis on how climate change affects insects.

Create global experiential learning opportunities like the Global Experience course that brought together student entrepreneurs in Rwanda and the U.S. through virtual exchange.

Build global partnerships around the world, like the vaccines Dr. Hiep Vu has been developing for porcine viruses with his connections in Vietnam and beyond.
Click here to Support Global Affairs Now

We're also excited to reach for our goals thanks to the support of a challenge donor who will provide a dollar-for-dollar match up to $500 to empower international education at UNL.

Here's how you can help us GLOW ALL IN for Global Affairs:

GIVE: From now until Feb. 17 at noon, support Global Affairs with a $5 gift or more. All gifts, no matter the size, help support our mission!

ADVOCATE: Spread the word about our Global Affairs fundraiser to your network. Even one email, one tweet can make a BIG difference!

GLOW: Make your room, home or business glow red to let your Husker pride shine!

SHARE: Use #GlowBigRed and #GlobalNebraska to show your support on social media.
Thank you for all you do to support our mission of global education and engagement! With your help, we can continue strengthening the University of Nebraska-Lincoln as a transformative, world-leading, 21st century, land-grant university.

Donate Today

P.S. Click here to find out how you can become an ambassador for Global Affairs during Glow Big Red this year.