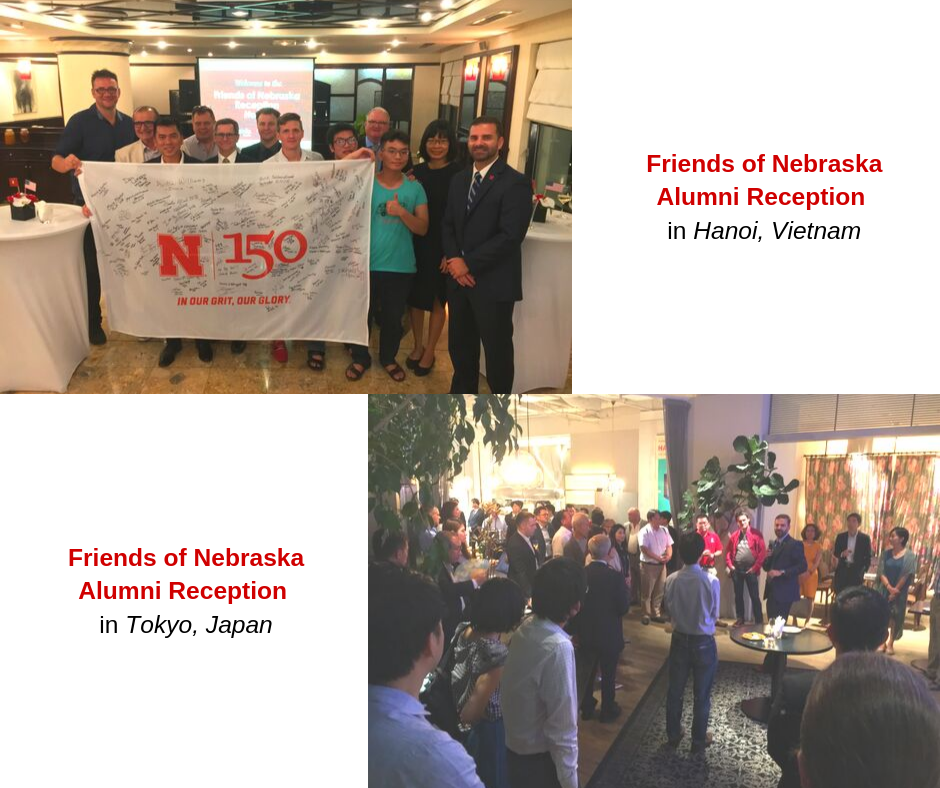 by Courtney Van Hoosen | Office of Global Strategies
Share on Facebook | Tweet This | Post on LinkedIn

In September, University of Nebraska-Lincoln senior administration, faculty and staff joined Governor Ricketts' trade missions to Vietnam and Japan. In addition to supporting state economic development, university officials also hosted two receptions to meet with more than 100 alumni and friends.

From September 3 to 10, University of Nebraska-Lincoln senior administration, faculty and staff joined Governor Ricketts' trade missions to Vietnam and Japan. In addition to supporting state economic development, university officials also hosted two receptions to meet with more than 100 alumni and friends.

University builds new relationships with Vietnamese institutions
Associate Vice Chancellor for Global Affairs Josh Davis and Global Outreach Officer Courtney Van Hoosen arrived in Hanoi, Vietnam for four days of meetings with government and university officials on the first leg of the trade mission. Throughout the meetings with ministers and their departments in agriculture, finance and technology, Vietnamese officials expressed an interest to further collaborate with the State of Nebraska in agricultural trade, technological and capital investment, and higher education exchanges. The delegation was also joined in some of the meetings by U.S. Ambassador to Vietnam and University of Nebraska-Kearney alumnus, Daniel Kritenbrink. Nebraska was grateful for Ambassador Kritenbrink's support at the meetings as well as his dedication to state and alumni connections.

At the same time, two faculty researchers and Dean Archie Clutter from the Agricultural Research Division were presenting at a conference at Nong Lam University (NLU) in Ho Chi Minh City. Dr. Fernando Osorio with Nebraska's School of Veterinary and Biomedical Sciences and Dr. Hiep Vu with the Department of Animal Science presented on their research at NLU's National Conference on Animal and Veterinary Science. In addition to the presentations, Nebraska also signed a memorandum of understanding with NLU at the conference to develop new research partnerships with their faculty and those at UNL's Institute of Agriculture and Natural Resources. The partnership signals a desire by the University to continue building new relationships with across Vietnam.

On September 6, Dean Clutter and Drs. Osorio and Vu joined the rest of the Nebraska trade delegation in Hanoi for a meeting with leaders at the Vietnam National University of Agriculture. The Vietnam National University of Agriculture is known as the leading university among the community of agriculture, forestry and fishery universities in the country, and falls under the Ministry of Agriculture and Rural Development. Vice President Dr. Pham Van Cuong opened the meeting with a warm welcome, and introduced the rest of his delegation which included leaders from their International Cooperation Office, the Faculty of Veterinary Medicine and the Faculty of Agronomy.

During the meeting, Associate Vice Chancellor Davis and Dean Clutter expressed the common interests and research concerns between UNL and the National University, especially those related to animal science and veterinary medicine. Dr. Vu, who is originally from Vietnam, also shared more about his breakthroughs in researching animal vaccines and the crippling African swine fever (ASF) that has been causing trouble to pig farmers around the world.

By the end of the discussion, both universities were interested in exploring a new memorandum of understanding in faculty research areas, the potential for a dual degree program, and expanding student exchange opportunities.

As Associate Vice Chancellor Davis said, "The chance to send some of our students here is great. We very much want our students from Nebraska to learn the things we're learning here, what a great country Vietnam is and how many connections we have and how we can build on those."

During the evening of September 6, UNL hosted an alumni and friends reception to celebrate its connections in the country. About 12 alumni from across the University of Nebraska system attended, in addition to members of the Governor's trade delegation, former UNL lecturers and future Fulbright scholars.

"We really appreciate the University being a part of this [trade mission]," Governor Ricketts said during his remarks at the alumni reception. "I want to say welcome to all of our guests tonight, especially the alumni from the University of Nebraska. As [Associate Vice Chancellor] Josh said, it really is important that we make these connections because we feel that you are great ambassadors for us in Nebraska, to be able to tell the Nebraska story."

Nebraska remains committed to its Japanese partners and strong alumni connections
After the conclusion of the Vietnam Trade Mission, AVC Davis and Van Hoosen traveled on to Tokyo, Japan with Governor Ricketts' delegation for the Midwest-U.S. Japan Association Conference. During the three-day conference from September 8 to 10, governors of five Midwestern states, as well as executives from international companies from both the U.S. and Japan came together to discuss the future of shared economic relations.

In his opening remarks of the conference, Govenor Ricketts said, "The University of Nebraska has always accompanied us on this visit, and it's important as they strengthen their relationships with the universities here in Japan, like Senshu University or [University of] Shizuoka, or now a new relationship with Kobe University. That cultural exchange is a very important part of how we strengthen this [friendship]."

Currently, UNL has 11 international agreements with multiple universities across Japan. In addition to faculty collaboration, these agreements also include a 30-year long exchange program with Senshu University in Tokyo and customized intensive English programs for high school students from Senshu University Matsudo Senior High School and The High School of University of Hyogo.

The University has also created strategic partnerships with Japanese corporations, including Kewpie Corporation in Tokyo. After the Governor's second trade mission to Japan, where university officials met with senior leaders of the company, Kewpie and UNL formalized an agreement for the Japanese company to conduct North American market research and development efforts from the Nebraska Innovation Campus.

Nebraska also has a strong population of alumni living in the Tokyo area and across Japan, both expats living abroad and Japanese. On Monday, September 9, the University celebrated these connections with Governor Ricketts and Associate Vice Chancellor Davis at a reception that included almost 90 alumni, friends and trade delegation members. Some guests in attendance were proud to claim they had been exchange alumni at UNL from over 30 years ago.

"Seeing and meeting all of these alumni who have graduated from or studied at Nebraska, then went on to do incredible things—it's inspiring," Global Outreach Officer Courtney Van Hoosen said. Van Hoosen played a central role in organizing both receptions and inviting alumni to attend. "The University of Nebraska-Lincoln has a strong international network in Vietnam and Japan.

Both alumni receptions were organized by UNL's Office of Global Strategies in partnership with the Nebraska Alumni Association and the Nebraska Department of Economic Development (DED). The "Friends of Nebraska" initiative is a joint cooperation between the University and DED to reconnect with alumni, business partners and those with a connection to Nebraska who live abroad for the purpose of such trade missions and overseas events. The Office of Global Strategies would also like to thank Hisami Imagawa at the Nebraska Center Japan for her incredible help in organizing the Tokyo reception.

The University of Nebraska-Lincoln looks forward to Governor Ricketts' final trade mission in 2019 to Germany, where it will host another Alumni and Friends of Nebraska reception.

If you or someone you know is a University of Nebraska alumni living in Germany, please contact Global Outreach Officer Courtney Van Hoosen at cvanhoosen2@unl.edu. For more information about the Friends of Nebraska alumni receptions or UNL's role in the upcoming trade mission, please also contact Courtney.