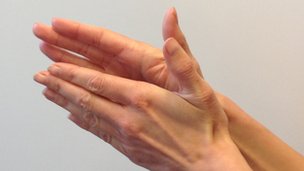 Bonnie Long, research coordinator, manages field projects related to the development and evaluation of genomic tools in beef cattle. This includes being the "curator" of well over 30,000 DNA samples and communicating with over 30 industry partners. Her work is part of a joint research collaboration between UNL and the US Meat Animal Research Center. Bonnie is an effective communicator and helps in the communication between research groups. She has the most pleasant demeanor and is willing to work above and beyond 40 hours a week. She believes in her mission, is quick to take on additional tasks, and is easy to work with. She is a tremendous ambassador to the industry and potential students. She makes IANR a better place to be because or her work ethic, her connectedness with the industry and her general attitude towards industry service.
 Nominated by Matthew Spangler

Want to celebrate and recognize a colleague's successes, large and small – the things they do in the workplace that make this a better place to be for faculty, staff or students? Perhaps it's a single one-time action or step, or perhaps it's something they do day in and day out. It doesn't have to be a huge action; sometimes it's the smallest kindnesses or efficiencies that make the biggest difference.

The problem is: We rarely hear about them. Here's your chance to recognize those around you – what we're calling a Kudos Corner in ThisWeek@IANR.

Please provide this information:

Your name, job title and contact information:

Nominee's name, job title and contact information:

Describe this person's success story, and be as specific as possible about how it makes IANR a better place to be:

Please email this information to Dan Moser in EdMedia at dmoser3@unl.edu.