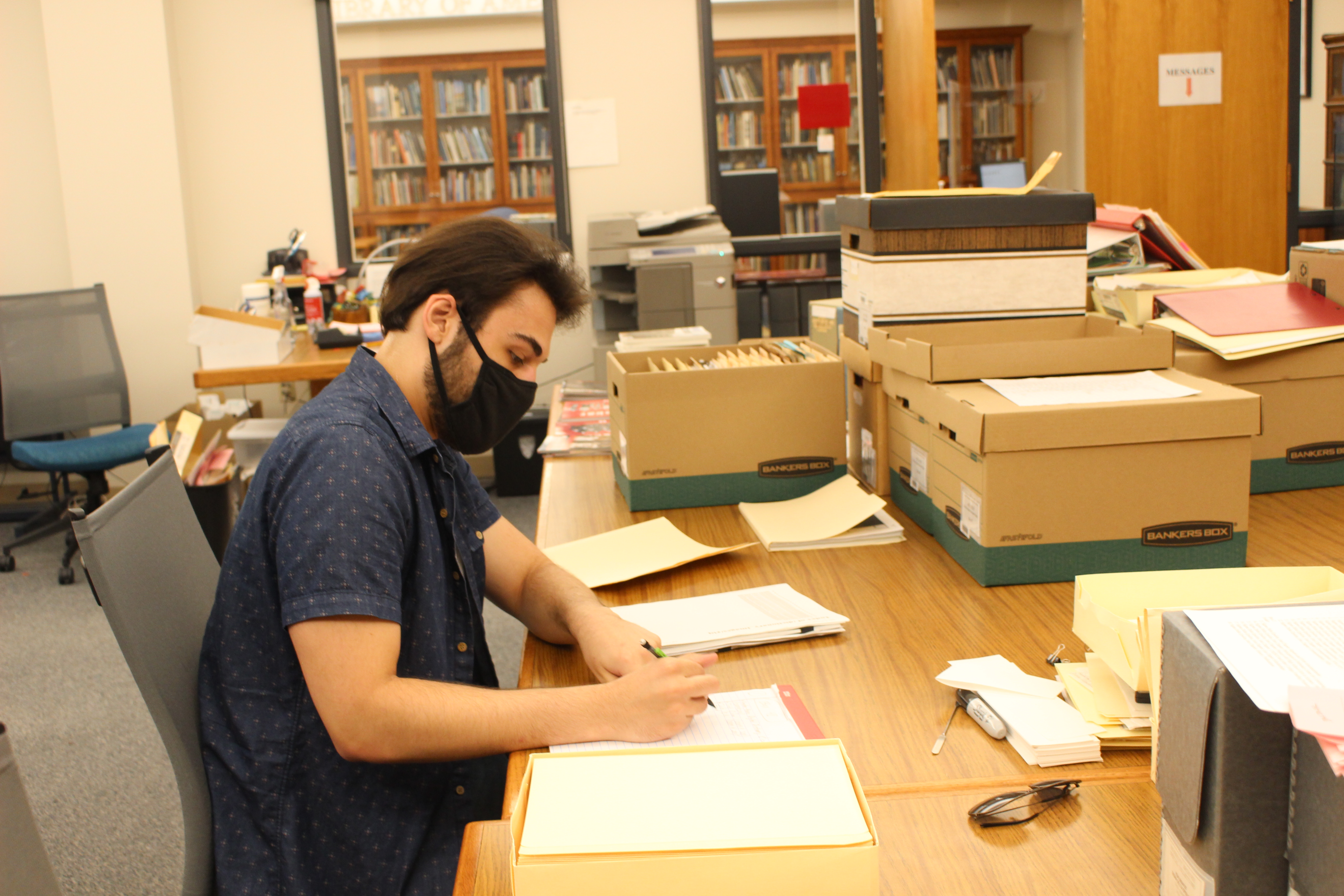 The first time Jake Borgmann visited the Archives & Special Collections, it was the Spring semester 2019 and he was a student in History 250 – Historian's Craft, taught by Ann Tschetter, associate professor of practice. The students were assigned to write papers about an aspect of the University's history for N150 and Borgmann's interest was in the Red Power movement's impact on UNL and its culture. While his classmates found old diaries and other materials in the Archives, Borgmann found only a handful of sources, and none were from the perspective of Indigenous students or tribes.

"In my eyes, this always reflected a clear disparity in historical representation, "explained Borgmann, "Of course, part of this can be blamed on enrollment trends, but in history, the perspectives of minority groups are just as important as majority groups and they need to be shared."

Bormann, a senior majoring in History and Ethnic Studies, specializing in the histories of the Indigenous peoples of the Great Plains, was so committed to transforming this situation, that he followed up the N150 research with a UCARE project he proposed to Mary Ellen Ducey, the University Archivist. The goal of his project was to increase the historical representation of Indigenous peoples in University's Archives, a project Ducey said was long overdue and warmly welcomed.

According to Borgmann's UCARE proposal, he outlined two ways of accomplishing his goal: "1) reorganize, process, and create better finding aids for current collections pertaining to Indigenous histories, and generally establish a better understanding of what collections the archives possessed, and 2) create new collections with materials made by contemporary Indigenous students."

"The Libraries and the Archives are here to provide support when classroom experience expands beyond to different opportunities," explained Ducey, "Jake is helping future researchers with the creation of finding aids. We didn't feel like we had a lot (of Indigenous materials) in our collection, but we have some pockets of Indigenous materials in a variety of collections which he is helping to make more visible."

Borgmann started with highlighting those smaller pockets, then moved onto spending most of his time delving into the 70 cubic foot collection of papers donated by Mark Awakuni-Swetland, a professor of anthropology at Nebraska from 1999-2015.

Borgmann has been fascinated by what he has found in the Awakuni-Swetland collection. One discovery of a tin box containing 2 bundles of sages, 2 bundles of corn seed and about 20 corn cobbs triggered sending an inquiry to UNL's campus representative for Native American Graves Protection and Repatriation Act (NAGPRA) on whether these items needed to be returned to an Indigenous nation.

"When I first found them we separated them to keep them safe. I thought it could be a NAGPRA issue," explained Borgmann, "Sage is a religious item by some tribes, including the Omaha, the tribe in which Awakuni-Swetland was informally adopted."
Ducey followed up with NAGPRA representative and legal counsel on campus who determined that these items could stay with Awakuni-Swetland's collection.

Borgmann's said that this UCARE project has been a valuable experience, especially in preparation for graduate school.

"In the process of getting some introductory archival training, I'm also getting the archival perspective on research, which helps me find materials for my research – which is invaluable," said Borgmann.

As to the goals of his UCARE project, Borgmann admits that he has been more successful with the first task than the second but not from lack of trying. He reached out to UNITE on campus asking them to contribute to his project. He still hopes that students from all walks of life on campus will consider sharing their stories with the Archives for future students to study and provide representation from various voices and perspective in the Archives.

If you would like to support students like Jake Borgmann and help UNL Libraries with priority needs, please consider a tax-deductible gift or pledge to our N Fund – Libraries.

You may mail your gift directly to the University of Nebraska Foundation 1010 Lincoln Mall, Suite 300, Lincoln, Nebraska, 68508. Make checks payable to "University of Nebraska Foundation" and add in the memo line or an accompanying note: "Fund # 01054670 - N Fund – Libraries" or donate directly online at: nufoundation.org/fund/01054670

If you have questions or would like to learn about other ways to give, please contact our Foundation representative Joye Fehringer at joye.fehringer@nufoundation.org or 402-875-0611.