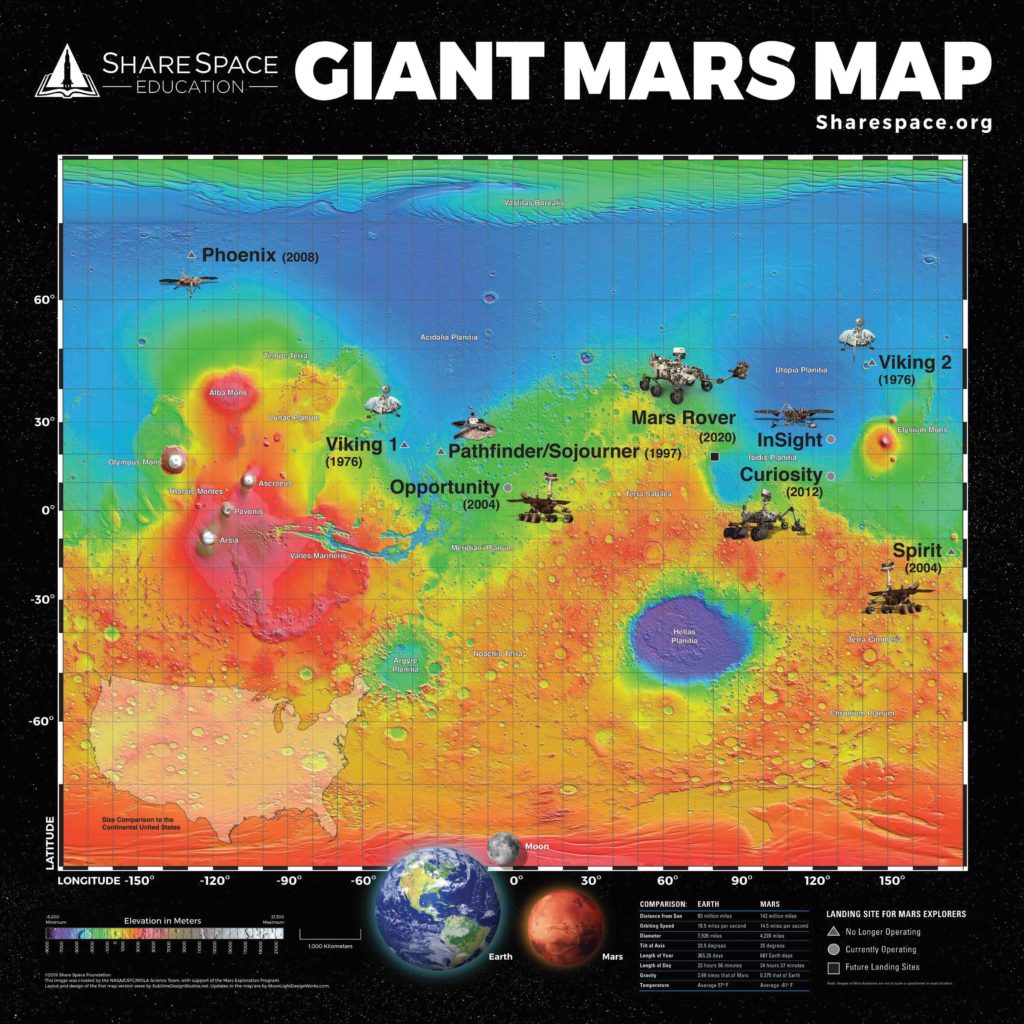 Eleven Giant Mars Maps™ were awarded to Nebraska schools in 2019. To apply to receive a map for your school at no cost, applications are being accepted until Feb. 2, 2020. Apply at: https://tinyurl.com/rfqnu7e

ShareSpace's Giant Mars Map™ is an exciting, core science standards-based, interactive educational tool that helps children develop an understanding for real-world, STEAM-based concepts using the Red Planet as the basis. Targeted for ages 8-12 years, the vinyl floor map measures 25' x 25' and depicts a colorful topography of Mars, as well as the landing sites of Mars rover missions. It can be used on any large surface – from a school classroom to a gymnasium to a museum lobby. Read more at: https://sharespace.org/education/mars-maps/

Map packages were distributed to 58 American schools in 23 states in 2019, including: Alabama, Alaska, Arizona, California, Colorado, Florida, Georgia, Idaho, Illinois, Indiana, Iowa, Kansas, Maine, Massachusetts, Nebraska, Nevada, New Jersey, New York, North Carolina, South Carolina, Texas, Washington and West Virginia. Two international Department of Defense schools in Italy and Germany were also recipients.

The schools in Nebraska that received a Giant Mars Map™ in 2019 were: Beadle Middle School in Omaha, Chase County Schools in Imperial, Crete Intermediate School, Kearney High School, Lincoln Elementary in Grand Island, Lyons-Decatur Northeast in Lyons, Mickle Middle School in Lincoln, Millard Central Middle School in Omaha, Plattsmouth Middle School, Roosevelt Elementary in Scottsbluff, and St. Bernard Catholic School in Omaha. Congratulations to all of the map recipients!

The University of Nebraska at Omaha also received a Mars map. Moon Maps are also available, and in 2019 those went to Branched Oak Observatory, King Science and Technology Magnet Middle School in Omaha, and Lincoln High School.

2020 awardees are expected to be announced on March 2. If you are selected, you will be contacted to confirm your continued interest as well as your shipping address. If you are not selected you will be contacted to inform you of that status, as well. Questions may be directed to info@sharespace.org.

Each package includes a 25 foot x 25 foot map, a robot, 10 Welcome to Mars books, the Mars Map Curriculum package developed in collaboration with Purdue University, and access to in-person and online program training from the ShareSpace Foundation. The value of each Giant Mars Map™ package is valued at $5,000.