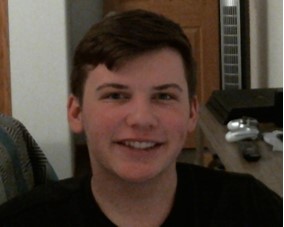 When Alan Ouderkirk began courses at Western Nebraska Community College, he was nervous about finding a community that would embrace and support him.

First Generation students from Bayard, Nebraska, Alan and his twin brother, Adam, were unsure how to navigate the nuances of the college experience. However, as soon as they arrived, their friendly demeanors and passion for STEM led them to quickly build relationships with their peers and professors in information technology.

"I had two teachers email me just checking in, seeing how Adam and I were doing in our classes and such, and they weren't even our teachers for any classes," Ouderkirk said of the community at WNCC.

When the STEM CONNECT Scholarship was launched at the college, his professors immediately identified Ouderkirk as an exemplary candidate for the opportunity.

STEM CONNECT is a scholarship created by the National Science Foundation to promote diversity within the STEM (science, technology, engineering and mathematics) fields. The grant was launched at the University of Nebraska in Fall 2019 in partnership with Southeast Community College and Western Nebraska Community College. STEM CONNECT Scholars will enroll in a two-year program at one of these community colleges and afterward have the opportunity to transfer to the University of Nebraska-Lincoln.

The Ouderkirk brothers are members of the first cohort of WNCC STEM CONNECT Scholars in Spring 2020. More WNCC Scholars will join the community in Fall 2020.

The STEM CONNECT community at WNCC has allowed Ouderkirk to meet like-minded students and teachers, which motivates him to take advantage of other opportunities WNCC has to offer. In December, Ouderkirk was encouraged to take a Microsoft Computer Applications course that concludes in a Microsoft Office Specialist (MOS) certification exam, and top students are invited to compete in the MOS US Championships. A few days later, he received an invitation to represent the State of Nebraska at the national championships.

Though once daunted by the prospect of college, Ouderkirk has come to thrive in this setting, due in large part to his determination and commendable work ethic. He advises incoming students to take advantage of their new setting and be inquisitive because everyone has been a novice.

"Don't be afraid to ask questions," Ouderkirk said. "No question is bad, especially when you're a new college student and you don't have the answers you need."

About the Author: This feature on Alan Ouderkirk was written by Gabrielle Cottraux, a UNL sophomore majoring in English and advertising and public relations. This semester she is working in the CSMCE as recruitment and social media strategist.