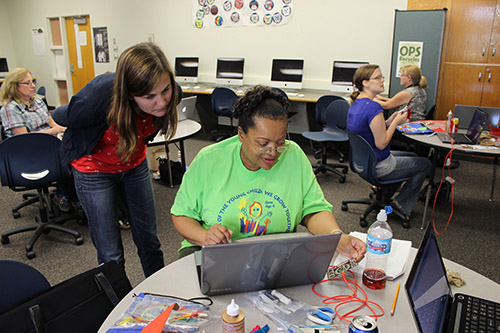 New workshops this past summer through UNL 4-H Extension and Nebraska Blast! created and delivered hands-on activities to engage middle school science teachers in authentic STEM learning. The e-Textiles workshops, held in Omaha and Norfolk in June and Chadron and Kearney in July, allowed teachers to learn to design and build e-textiles. Teachers were given activity plans and educational resources, and also kept the electronic creation they made.

The activities, based on wearable technologies, use a small sewable micro-controller (really small computer), sensors, conductive material and LEDs to create a "smart" textile. Youth can also participate in this workshop, where they learn to merge engineering design, innovative problem solving skills, artistry and entrepreneurial skills to solve authentic STEM problems within an engineering context.

Brad Barker of UNL 4-H Extension and youth engagement director for the Center for Science, Mathematics and Computer Education, and Jenny Melander of UNL Biomedical Engineering, explain the focus of these professional development workshops in the webinar on this website: http://unlcms.unl.edu/4-h-youth-development/nebraska-blast/.

Nebraska BLAST! is a collaborative agreement between the Nebraska Department of Education's 21st Century Community Learning Center program (21st CCLC) and the National Aeronautic and Space Administration (NASA) that began in 2011. The program provides a unique opportunity for 21st CCLC informal educators and teachers from buildings with 21st CCLC programs to participate in quality professional development that prepares them to implement 30 hours of NASA Summer of Innovation content with middle school students attending 21st CCLC summer programs. Nebraska BLAST! is implemented as a result of partnerships between NASA, the Nebraska Department of Education 21st Century Community Learning Center program, NASA Nebraska Space Grant, the University of Nebraska-Lincoln, the University of Nebraska-Omaha, the Strategic Air and Space Museum, and the University of Nebraska Munroe Meyer Institute.