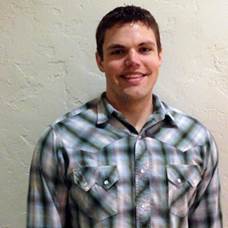 Last summer after a 43-year career at Mueller Planetarium, Jack Dunn retired as Planetarium Coordinator. Now, the Mueller Planetarium is pleased to introduce Zach Thompson as the new coordinator. Thompson was hired in August.

Thompson graduated from UNL with a bachelor's degree in Political Science and Government in 2009. He began his Planetarium apprenticeship with Dunn back in 2006 when he was a UNL sophomore. He was the planetarium assistant for the four years preceding his hire, starting in May 2010.

Thompson also continues the State Museum's connections with Hyde Memorial Observatory and the Prairie Astronomy Club that Dunn established. Since January 2013, Thompson has been a volunteer Deck Operator at Hyde Memorial Observatory; on Saturday nights he operates telescopes for the public to view the night sky. He also runs video presentations about seasonal constellations as a representative of the Prairie Astronomy Club.

From April 2010 to August 2014, Thompson's "day job" was producer at KOLN/KGIN-TV where he produced and edited live newscasts and updated the accompanying website material for the station. His public communications skills include visual storytelling, videography, promotions and newscast directing.

With his hire, the planetarium didn't miss a beat in public programs. Our current Fulldome programs are: Sat/Sun at 2 p.m. "Starry Tale"; 3 p.m. "Dream to Fly"; and Thursdays at 7 p.m. "FireFall" about meteors and comets. This month, Thompson presented the special Mueller Planetarium October Laserfest to sold-out audiences.